The Buccaneers are on the lookout for a new offensive coordinator, with Byron Leftwich being the highest-profile coach the team moved on from amid a spree of dismissals and retirements last week. Both Todd Bowles and Tom Brady voiced concerns about Leftwich last season.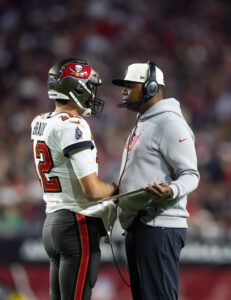 Bowles and Brady complained about the offense's predictability, according to the Tampa Bay Times' Rick Stroud, who adds the team's lack of commitment to the run game was one of the issues. Bowles believed teams had caught onto Leftwich's offense, which tumbled off its elite perch of previous years, and Brady problems with the offense emerged back in December.
Tampa Bay finished 25th in scoring, and although it ranked 15th in total offense, a last-place ground attack dragged down the latter number. The Bucs ranked 32nd across the board on the ground, averaging just 3.4 yards per carry and totaling just five rushing touchdowns. The Bucs went from 61 TDs in 2021 to 31 this season. Leonard Fournette's three-year, $21MM deal produced just 668 rushing yards (3.5 per tote) in 16 games. Much of these woes can be attributed to the changes to Tampa Bay's interior offensive line, which lost all three of its previous starters — Ryan Jensen (injury), Ali Marpet (retirement), Alex Cappa (free agency) — to lead to lesser replacements creating problems for Brady and the run game. Brady showing signs of decline did not help matters for Leftwich, either.
But Leftwich and other Bruce Arians-hired staffers took the fall. Arians is not pleased with what happened last week, Stroud said during a WDAE Radio interview (via JoeBucsFan.com). The three-year Bucs HC, who gave the keys to Bowles in a surprising move last March, is "disappointed" and "hurt" his successor canned several of his staffers. Those assistants, some of whom having additional years on their contracts, had been told they would be there as long as Bowles was, per Stroud. Of course, NFL teams' plans change rapidly. And an 8-9 season was not exactly where the Bucs thought they would be given their performances in 2020 and '21. Bowles figures to enter the 2023 season on the hot seat. Arians spent the season as a senior advisor to Jason Licht, though he admitted late in the season he missed coaching.
As Bowles gathered his staff for a postmortem Thursday morning — prior to informing Leftwich and Co. they were being fired — he mentioned the team would have a difficult time signing free agents, per Stroud. The Bucs are nearly in Saints territory in terms of cap space, ranking ahead of only their restructure-happy rivals around the league. As of Wednesday, Tampa Bay sits $54MM-plus over the projected 2023 cap. The Bucs have been active in free agency over the past two years, mostly via re-signings. But the team had brought back a number of its top free agents — from Jensen to Carlton Davis in 2022 to Shaq Barrett, Lavonte David and Rob Gronkowski in 2021 — during Brady's stay.
Following that meeting, Bowles called select assistants into his office to inform them of the dismissals. Despite the persistent run-game struggles, Bowles kept Arians hires Harold Goodwin (run-game coordinator) and Joe Gilbert (O-line coach). The team had discussions with Bill O'Brien as a Leftwich contingency plan last year, in the event the latter landed the Jacksonville HC job. O'Brien was Brady's OC (or de facto OC, as the Patriots sometimes do not do coordinator titles) for three seasons, but he is now back with the Pats.
The Bucs have begun their OC search, with a few candidates surfacing Tuesday. While Leftwich's ouster may influence Brady in free agency, the early word coming out of Tampa is the 45-year-old superstar will explore other options if he is to play a 24th season.