The Buccaneers are moving on from Byron Leftwich. The team's offensive coordinator of the past four years will not return in 2023, according to the Tampa Bay Times' Rick Stroud.
In addition to Leftwich's dismissal, Stroud points to other changes. As many as five offensive staffers and multiple defensive assistants will not be back next season. This follows a season in which the Bucs' offense declined considerably after two strong years with Tom Brady. The changes came to pass after a Todd Bowles meeting with GM Jason Licht and Bucs ownership, per Stroud.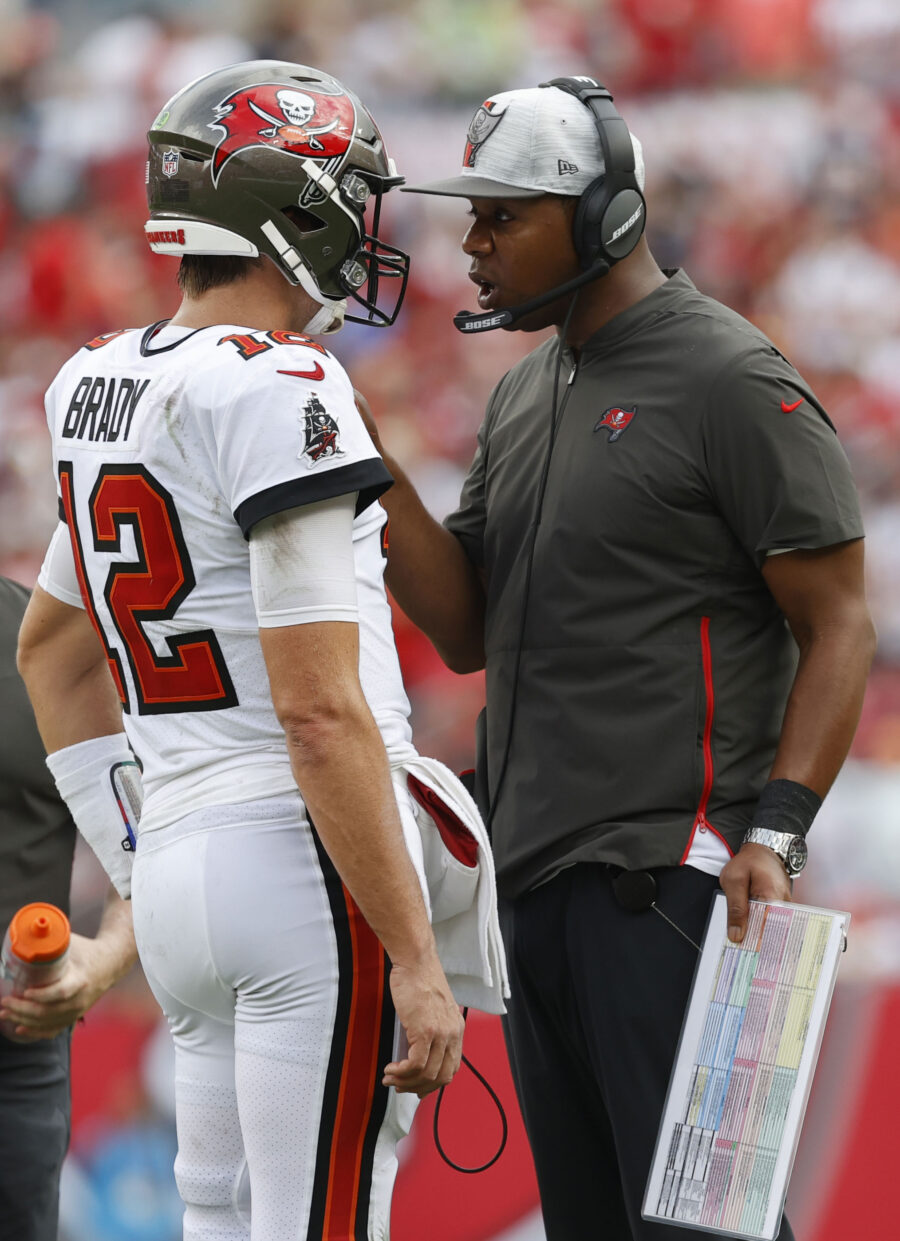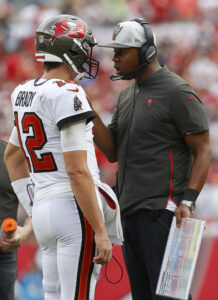 This news comes a year after Leftwich, 43, was on the HC carousel. The Jaguars interviewed their former quarterback twice in January 2022, but Leftwich removed his name from consideration for the job. Jacksonville ended up hiring Doug Pederson and is now in the divisional round. Leftwich's fourth Bucs offense dropped from second in 2021 to 25th this season.
In December, a report emerged indicating Brady and Leftwich were not seeing eye-to-eye, and a recent report noted a Brady 2023 return could well be contingent on Leftwich's dismissal. Many connected Brady to Bruce Arians' exit as well, though Arians has repeatedly denied he was forced out. While Brady's Tampa future is up in the air, Bowles will search for his own offensive coordinator. Bowles' seat warmed after the Bucs' 8-9 finish and blowout loss to the Cowboys in the wild-card round, and he will tie his future to a handpicked OC.
A name to watch is Georgia OC Todd Monken, per NFL.com's Ian Rapoport (on Twitter). Monken has a history with the Bucs, having been on staff from 2016-18, and Jeremy Fowler of ESPN.com adds (via Twitter) he has generated interest from teams.
The Bucs moved on from Monken upon firing Dirk Koetter after the 2018 season, leading Monken to Cleveland and the Arians-Leftwich tandem to Tampa. Monken has been Georgia's OC since 2020, and his tenure has overlapped with the greatest stretch in the program's history. The Bulldogs have won back-to-back national championships, the most recent being cemented via a 65-7 rout of TCU. Monken's 2018 Bucs season also included Ryan Fitzpatrick posting a 9.6 yards-per-attempt figure, which still ranks in the top 10 all time.
Leftwich earned a second chance as an OC following a dismal 2018, which featured the Cardinals' first post-Arians season end with a 3-13 record and the team ranking last offensively. Arians, who had retired following the 2017 slate, brought Leftwich to Tampa and installed him as the Bucs' play-caller. Jameis Winston's historically high-variance 2019 season gave way to Brady in 2020. After a rocky start, the legendary QB drove the Bucs to a top-three ranking on offense that year. Leftwich collected a Super Bowl ring that season, and Brady led the NFL in touchdown passes and passing yards in 2021. Tampa Bay's final Winston-led offense also ranked in the top seven in both points and yards, which should reflect well on Leftwich. But this season brought an undeniable blow to his value.
The Bucs ranked last across the board in rushing this season, despite the team re-signing Leonard Fournette on a three-year deal worth $21MM. Offensive line issues plagued the team, and Brady's QBR fell from second in 2021 to 18th in 2022. The Bucs' 198 fewer points from 2021-22 doubles as the second-steepest decline in NFL history, behind only the Falcons' freefall from 1973-74 (h/t Fox Sports' Greg Auman). Although Brady threw for 351 yards in Tampa Bay's woeful wild-card performance, he struggled throughout and did not confirm anything about his 2023 plans postgame. The 45-year-old passer has been connected to retiring again, playing for the Bucs in 2023 or playing elsewhere. More Brady-dominated news cycles are coming, but Leftwich will be on the lookout for his next gig by that point.
Leftwich's Winston offense outperforming Monken's Winston work should work in the former's favor, though some of Winston and Brady's Tampa production will undoubtedly be attributed to Arians. Leftwich, a former Jags top-10 pick, entered coaching in 2016 as an Arians intern but rose to the OC level by 2018, when the Cardinals fired Mike McCoy in-season.
Follow @PFRumors