The prospect of the Raiders playing at the San Francisco Giants' Oracle Park has produced some notable reactions, none of which pointing to a solution having been reached yet.
The Raiders remain without a 2019 home, and now San Francisco mayor London Breed came out against another team playing in the city. She has also directly informed the Giants about her view on this matter, according to Lisa Fernandez of KTVU.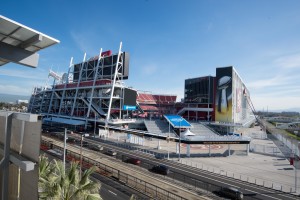 "As far as I'm concerned, the Oakland Raiders should play in Oakland," Breed said. "We don't need another layer to add to what we already have — and that's an area that's really congested filled with construction and will host a number of basketball and baseball games over the coming months."
In addition to the Giants, the Golden State Warriors' new arena, Chase Center, is scheduled to become a San Francisco sports site this year. Breed's stance further complicates Raiders plans of potentially playing at Oracle Park. They entered into discussions with the Giants about this in December, but hurdles — from logistics, to league approval, to the 49ers' San Francisco territorial rights — remain.
The NFL prefers the team share Levi's Stadium, a site that could accommodate two teams, with the 49ers. This is the hopeful outcome of the NFC's Bay Area team as well, Matt Barrows of The Athletic notes (subscription required). The Raiders have discussed this option, but Mark Davis has thus far balked at being a one-year tenant at the 49ers' stadium, per Albert Breer of SI.com.
No deal between the Raiders and Oracle Park has been finalized, but negotiations appear to have picked back up. However, considering the obstacles impeding this move, Davis might have to settle on one of the two traditional Bay Area NFL sites. A path back to Oakland for one more pre-Las Vegas season remains possible, but nothing significant has transpired between the Raiders and the city that is suing them in recent weeks.
Photo courtesy of USA Today Sports Images.
Follow @PFRumors