The NFL wanted the Raiders to have their 2019 setup worked out by Super Bowl LIII. With four days remaining until the season's signature event, the franchise still does not know where it will play next season.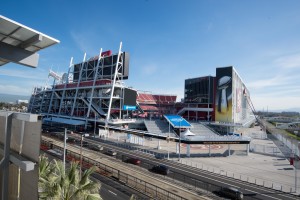 However, a region is now known. The Raiders were loosely connected to places like San Diego, Portland and Reno, Nev., but the team will play the 2019 season in the Bay Area, Jason La Canfora of CBS Sports reports (video link). But it's still unknown which stadium will be the Raiders' home in their final lame-duck season.
Roger Goodell said Wednesday he believes Mark Davis' preference is to keep his team in the Bay Area next season, and Ian Rapoport of NFL.com adds (video link) the Raiders and 49ers have engaged in discussions about sharing Levi's Stadium next season. This would be the NFL's preferred option, per La Canfora.
The San Francisco Giants' AT&T Park remains in play, and the Raiders discussed this with the MLB franchise recently. But it sounds like that is the least likely option, with the 49ers still having the right to block this from happening due to possessing territorial rights in San Francisco. The NFL has done site studies on the Raiders' sharing a stadium with the 49ers and the prospect of them using the San Francisco MLB venue, per JLC.
Option 2 appears to be staying at Oakland Coliseum. The Raiders were planning to reopen dialogue with the city of Oakland, but Rapoport adds this has yet to take place. The lawsuit Oakland filed against the Raiders and the NFL brought this uncertainty about the Raiders' 2019 home, but Davis has been lukewarm about sharing a venue with the 49ers in the past. No 2019 lease agreement was in place between the Raiders and the Coliseum before the lawsuit.
The Raiders are on track to move to Las Vegas in 2020, but their 2019 location should be known soon, considering the "significant" backlash expected to come their way from the league if no solution surfaces by the Super Bowl.
Follow @PFRumors