The long-awaited speculation surrounding Kyler Murray's future was answered on Monday when the Heisman Trophy-winning quarterback from Oklahoma announced his plans to commit to football and enter the NFL Draft.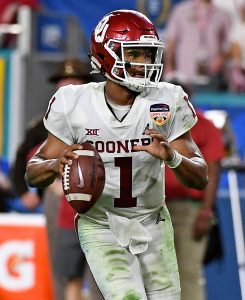 This is big news, of course, because Murray was drafted by the Oakland A's in the first round of the 2018 MLB amateur draft. The team agreed to let Murray play quarterback at Oklahoma with the expectation he would join the club for spring training in February. That plan backfired, as Murray took home college football's top honor after throwing for 4,361 yards and 42 touchdowns, and adding 1,001 yards and 12 touchdowns on the ground in his first season as a starter in Norman.
The success propelled the dual-threat passer into a potential first-round pick in the 2019 NFL Draft and led to his decision to forego his deal with the A's to pursue the NFL.
The upside is obvious with Murray, who possess Michael Vick-like quickness with a much more honed passing arm. Unlike Vick, Murray has been in pass-happy offense all the way back to his days with Texas high school powerhouse Allen, where he never lost a game in the highest classification in the Lone Star State. His ability as a passer and a runner makes him much more like Super Bowl champion Russell Wilson. Any team looking for a quarterback in the NFL Draft would be foolish not to give the Sooners star a look.
The drawback is also obvious. At an estimated 5-foot-9, Murray would easily be the shortest quarterback in the league. It's not just the height that gives team pause, however, as he also possesses a slight build that is unlikely to add more bulk. While the height issue might be a little overblown following the success of Wilson, Drew Brees and Baker Mayfield, the slight profile is much more concerning and could make him much more susceptible to injury.
Those factors make trying to pick a landing spot for Murray a difficult task. Early in the process, many mock drafts had the Oklahoma quarterback as a late-first-round pick or a Day Two selection. Now, many of those same prognostications have him going in the top 10 or 15 picks. New Cardinals coach Kliff Kingsbury also drew headlines when a video surfaced of him saying he would take Murray No. 1 overall when he was coach at Texas Tech. He has since committed to Josh Rosen as his quarterback.
So, where in the 2019 NFL Draft does Murray go. Is he the top quarterback taken? Does he slip to the teens or the end of the first round? Or does the size question push him all the way to a Day Two or Three selection? Let us know your pick in the poll and give us your thoughts in the comments.
Photo courtesy of USA Today Sports Images.
Follow @PFRumors