The Cardinals have been relatively busy since free agency opened, making a number of moves to bolster their offensive line, the front seven of their defense, and taking a flier on former first-round wideout Kevin White.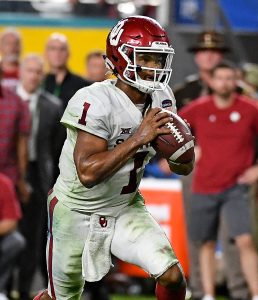 It does not appear that they will be contenders in 2019, however, and the moves they made were done with an eye on protecting a young quarterback and keeping the club competitive enough so that said young quarterback does not have to throw the ball 30+ times a game.
But who that quarterback will be remains an open question. There has been plenty of speculation that the club will use its No. 1 overall pick on Heisman Trophy winner Kyler Murray — just one year after trading up to the No. 10 pick to select Josh Rosen — and reports earlier this month indicated that Murray-to-Arizona was a done deal.
New head coach Kliff Kingsbury is a major reason for the speculation, as Kingsbury has no personal connection to Rosen, and the prevailing belief is that Murray would thrive in Kingsbury's system. And as Grant Gordon of NFL.com writes, Kingsbury has done nothing to quiet the rumor mill.
Kingsbury told the NFL Network's Steve Wyche yesterday, in response to a question about whether he would consider a QB with the No. 1 pick, "everything's on the table. When you have that first pick, you've gotta turn over every stone and look at every scenario that's out there, and so we're definitely doing that."
Of course, Kingsbury is not going to tip his hand, and he has said all the right things about Rosen. But he also sounds like a man who is not truly committed to the second-year signal-caller, no matter what he says publicly. Kingsbury said, "Yeah, I do [think Rosen could remain with the team]. I do. I mean, when you have the first pick, anything can happen, as you know, but you know, he's a talented player, and we're very high on him and that hasn't changed. I've talked to Josh and he understands it's a business and what all goes with the first pick and what's going on."
The Cardinals have reportedly received trade inquiries on Rosen, though one potentially interested team, the Redskins, are likely out of the picture at this point after trading for Case Keenum. But after a difficult rookie campaign, Rosen probably would not fetch much of a return, with perhaps a third-round draft choice being the best-case scenario for Arizona.
The club does have plenty of needs beyond QB, though, and if Kingsbury is not ruling anything out, one of this year's top pass rushing prospects, like Nick Bosa, could also be in play. The Cardinals could also trade the pick and try to land more draft capital to accelerate their rebuild, especially if Kingsbury believes he can mold Rosen into a quality signal-caller. But given the general dearth of top-end talent at the skill positions this year, and considering the depth of talent at pass rusher, such a trade may not yield as much in 2019 as it might in a different year.
That could change if another team falls in love with Murray, but one way or another, there figures to be plenty of intrigue over the course of the next month. Unless they trade their No. 1 pick, the Cardinals will be on the clock at 9pm EST on April 25.
Photo courtesy of USA Today Sports Images.
Follow @PFRumors