More consistently interested in acquiring Odell Beckham Jr. than the Browns, the 49ers again pursued the superstar wide receiver this offseason. But the Giants' asking price was high.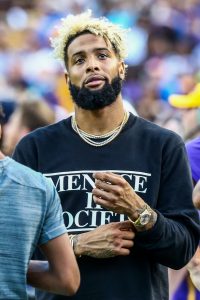 The Giants wanted the 49ers' No. 2 overall pick for Beckham, Jay Glazer of The Athletic reports (subscription required). The 49ers were not willing to deal that high-value selection away.
San Francisco had targeted Beckham during the 2018 offseason and then once the season started, per Glazer, but the Giants stood pat. They ended up acquiring the Browns' Nos. 17 and 95 picks, along with Jabrill Peppers. Other teams with whom Glazer spoke categorized the Giants' initial asking price as too high.
The 49ers' lone receiver move this offseason has been Jordan Matthews, whom the Eagles picked up as a street free agent in September. Kyle Shanahan's team may be targeting a wideout with one of its non-first-round picks, or another via trade, but for now, its top targets remain Marquise Goodwin and Dante Pettis.
As for the Giants' reasoning to deal one of the most talented players in franchise history, Glazer attributes the move to the team souring on its three-time Pro Bowl talent — at least, from an off-field perspective — and wanting to gear their offense more around Saquon Barkley. Pat Shurmur intervened last year to scuttle trade talks, and Beckham was on board with the new coach's regime, Glazer adds. As the team started slowly, Beckham's comments about Eli Manning had Shurmur "furious", perhaps helping the Giants' relationship with Beckham become, as Glazer describes, "fragmented" to the point the team was ready to move on.
With Beckham gone, the Giants now have Golden Tate and Sterling Shepard atop their wideout depth chart. The team will eat $16MM in dead money because of the Beckham deal. New York holds just more than $16MM in cap space currently.
Photo courtesy of USA Today Sports Images.
Follow @PFRumors