While the Cardinals were emphatic last month that Josh Rosen will be their quarterback of the future, plenty of smoke has emerged during Combine week of a Kyler Murray-Arizona fit.
That would make Rosen an attractive commodity, and one team is considering making a run at the 2018 first-round pick. The Redskins, per DraftAnalyst.com's Tony Pauline (Twitter link) "have spoken openly" in Indianapolis about making a run at Rosen — if the Cardinals make him available.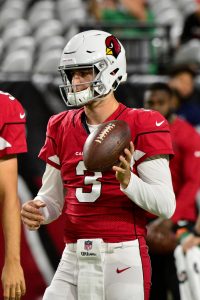 Washington's quarterback situation profiles as one of the most unique in years, with Alex Smith still on the team's payroll (at a $20MM-plus 2019 cap figure) but possibly having thrown his last NFL pass. He is out for the 2019 season. The Redskins are open to the idea of Colt McCoy being their stopgap this season, and the idea of them spending big to bring in a veteran doesn't appear likely.
They hold the No. 15 overall pick, and player personnel VP Doug Williams said if the organization likes a quarterback who is on the board at that point, that would be the way they would likely go about addressing this unusual situation.
"I think where we are at this point, and like I said earlier, if there's a quarterback there that we like at 15, 9 out of 10 we'll go that route," Williams said, via NBC Sports Washington. "If it's not somebody we like, we'll go with Colt and if we got to go out and get a veteran to work with him until that time comes, that's probably what we'll do."
Williams, though, did not sound like a trade-up scenario was in the cards. The Cardinals landed Rosen via trade-up, and considering the circumstances, did not have to part with much draft capital to make that move to No. 10 last year. Rosen struggled as a rookie but was not dealt a great hand, with the Cardinals' offensive line in shambles and OC Mike McCoy fired midway through the season.
Rosen would also help solve the franchise's financial concerns. The Cards paid their current starter a $10.88MM signing bonus, which would leave another team on the hook for less than $7MM through 2021.
The 22-year-old signal-caller was the fourth quarterback taken last year. However, ex-Redskins GM Scot McCloughan does not rate any of this year's quarterback prospects higher than him, via Robert Klemko of SI.com. McCloughan and NFL.com's Daniel Jeremiah place Rosen above both Murray and Dwayne Haskins, and the Redskins are unlikely to be in position to land either of those prospects at 15.
Kliff Kingsbury has been connected to Murray for years, having attempted to recruit him at Texas Tech and saying in advance of last year's Texas Tech-Oklahoma game he would draft him No. 1 overall if he had the chance. And it appears the Combine has not done anything to cool off this connection.
Follow @PFRumors