Antonio Brown's offseason has produced numerous headlines, that spree continuing after his arrival in Oakland. But not a ton of clarity emerged on what other offers the Steelers received for their perennial All-Pro wide receiver.
The Raiders swooped in after the Bills' brief talks regarding Brown ended without a deal, landing a player on course for the Hall of Fame for third- and fifth-round picks. Interested teams had issues with Brown's demand for a new contract, one of which apparently was ready to submit a much better proposal to the Steelers.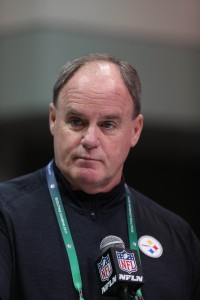 Brown's financial demands stopped at least one team from offering a first-round pick, Jeremy Fowler and Paul Gutierrez of ESPN.com report. Had the 30-year-old wideout been available without seeking another new contract, the ESPN duo notes Pittsburgh may well have acquired an extra first-round pick — presumably in 2019. However, teams knew a month prior to the trade that acquiring the mercurial wideout meant negotiating a new contract.
A slew of suitors emerged for Brown, in addition to the Bills, the Eagles, Saints, Titans and Redskins among them. The Bills were believed to be ready to swap first-rounders with the Steelers and part with two mid-round picks. That is the best known offer for Brown, and Fowler reports the Steelers felt strongly about the Bills' proposal. The Patriots were indeed interested as well but the Steelers held firm on their stance not to do a deal with them.
After some convincing, the Raiders agreed to amend Brown's contract. The Steelers dropped their asking price to those third- and fifth-rounders, with Kevin Colbert optimistic about the teams trying again — after some failed early talks on March 8 — to get a deal done. Brown ended up with $30MM in additional guarantees. The Steelers hold the Raiders' No. 66 and No. 141 overall picks.
Photo courtesy of USA Today Sports Images.
Follow @PFRumors