The conventional wisdom the past couple of months has been that the Cardinals will take Kyler Murray with the first overall pick. But nobody knows their true intentions, and they could just as easily take Nick Bosa or Quinnen Williams with the top pick. If they do pass on Murray, it'll set off an interesting chain reaction.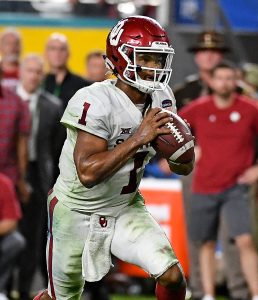 This past week, we heard that some teams were beginning to prepare for some of the top quarterbacks to start slipping in the draft if the Cardinals do pass on Murray. If Arizona drafts Murray, it could create a frenzy for teams to move up and get one of the next top available passers like Dwayne Haskins or Drew Lock. But if they don't take Murray, teams could be more content to wait and everybody could end up sliding.
That being said, don't expect Murray to fall too far. "There's a belief in some circles" that the Raiders will be "tempted" to take Murray if he's still available when they pick fourth overall, according to Mike Florio of ProFootballTalk.com. Coach Jon Gruden and new GM Mike Mayock haven't exactly been committal when asked about Derek Carr this offseason, so this isn't too shocking.
Gruden and Mayock have both insisted they view Carr as a franchise quarterback, but have also said they're willing to upgrade the position if the opportunity comes along. Thanks to the Khalil Mack and Amari Cooper trades, the Raiders have plenty of draft ammo. They have three picks in the first round, and could easily execute a trade up for Murray if that's what it ended up requiring.
At this point it would still be a surprise if it happens, but it's worth noting. The team has already worked out Murray, as well as Haskins. Gruden has been playing coy with the Carr situation, and it's unclear how he truly feels about the Raiders' quarterback of the past five seasons. Fortunately, with the draft just days away, we should know more soon.
Photo courtesy of USA Today Sports Images.
Follow @PFRumors