Assuming the Cardinals select quarterback Kyler Murray with the first-overall pick, it's expected that the 49ers would subsequently take Ohio State pass rusher Nick Bosa with the second-overall pick. However, Mike Florio of ProFootballTalk.com writes that this perception could be the 49ers' way of throwing rival teams off their trail.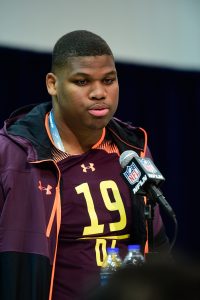 Florio says that "some in league circles believe that the extent to which the 49ers are allowing that perception to exist unchallenged could mean, in reality, that the 49ers are planning to do something else." If this is truly the case, and the 49ers aren't 100-percent focused on selecting Bosa with the second pick, then this could vicariously lead to a pair of draft scenarios.
For starters, the 49ers could simply be eying Alabama defensive tackle Quinnen Williams. If the organization is looking for an Aaron Donald-type player who they could easily throw in to the interior of their defensive line, then Williams would seemingly be the perfect choice. Of course, this wouldn't necessarily explain why the 49ers aren't doing anything to decrease the Bosa-to-San Francisco talk. If the team intends to take Williams with the second pick, they could just publicly refute the Bosa rumors. On the flip side, perhaps they're keeping their mouths shut until they get clarity on Arizona's pick.
The other scenario revolves around a trade. As Florio points out, it was only two years ago that the 49ers acquired an extra pair of third-rounders and an extra fourth-rounder for simply moving down one spot in the draft. If, say, the Jets are particularly enamored with Bosa, the 49ers could use their own "interest" in the Ohio State standout to get more out of a trade. Either way, if the 49ers are hoping to make a trade and draft Williams, they probably won't be able to drop much further than fourth-overall; the majority of mock drafts have some combination of Murray, Bosa, Williams, and Kentucky edge defense Josh Allen in their top-four.
Follow @PFRumors