We heard last month that there was friction between Jets general manager Mike Maccagnan and new head coach Adam Gase. Maccagnan had already downplayed the reports, and Gase also dismissed those whispers yesterday.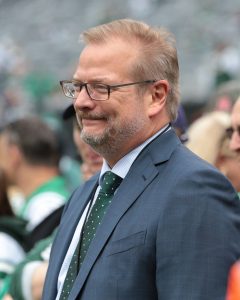 "I don't know who decides to put that stuff out there," Gase said (via Brian Costello of the New York Post). "It kind of pisses me off a little bit. We have discussion on everything. That's our job. We have to work through so much stuff. That's what we have to do. That's all we've done since we've been here.
"Since we started, we've been in constant communication whether he's coming down to my office or I'm going to his office, that's all we're trying to do is make sure we're on the same page all the time. We're trying to put this thing together as well as we can in a short period of time."
The initial report said that Maccagnan and Gase disagreed over the Jets' free agent strategy. CEO Christopher Johnson subsequently visiting team facilities to "observe the dynamic between the coach and general manager."
Costello acknowledges that the duo hasn't always seen eye to eye during their brief stint together. Specifically, the two had differing opinions on how much the organization should pay star free agent running back Le'Veon Bell. Ultimately, the writer says that the "issues were settled and things were overblown."
Photo courtesy of USA Today Sports Images.
Follow @PFRumors