Legendary Packers quarterback Bart Starr has died at the age of 85, according to a team press release. The Hall of Famer was synonymous with the Packers organization and was the only QB to ever lead his team to five NFL titles in a decade.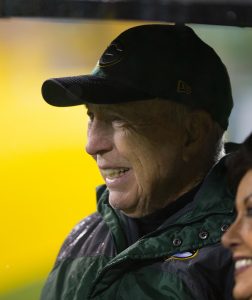 "He called the right thing at the right time and he executed it," said Boyd Dowler, Starr's favorite receiver. "He never made a bad read. He never made a stupid throw. If somebody was open, he'd get you the ball. He knew what it took to win and he went about doing it. He was a tremendous competitor and he was so consistent."
Starr played 16 years for the Packers, tying him with Brett Favre for the franchise record. He was the MVP and victor of the first two Super Bowls ever played and captured the league MVP trophy in 1966.
Starr is survived by his wife Cherry and his son, Bart Jr.
Follow @PFRumors