Although Odell Beckham Jr. stayed away from almost all of the Browns' OTAs, not reporting to his new team until mandatory minicamp, the Pro Bowl wide receiver views Cleveland as a better fit for him than New York would have been going forward.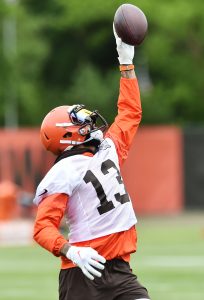 "I just felt with the Giants I was just stuck at a place that wasn't working for me anymore," Beckham said, via Complex.com's Jacob Davey. "I felt like I wasn't going to be able to reach my full potential there. Mentally, physically, spiritually, everything I felt capable of doing, I just couldn't see it happening there."
The 26-year-old wideout certainly had a tumultuous run in the Big Apple, his most recent two seasons cut short by injuries. The Giants traded Beckham for Jabrill Peppers, along with first- and third-round picks, in March. GM Dave Gettleman pulled the trigger after repeatedly saying he did not extend Beckham to trade him. The Giants started 1-7 in each of the past two seasons.
Beckham was part of several headline-driving stories during his five-year New York stay, one of which — an ESPN interview that criticized Eli Manning and questioned the Giants' new offensive system — irking Pat Shurmur and leading to the wideout apologizing to the team midway through last season.
On the field, however, Beckham remains one of the league's best. In 2016, the most recent of his three Pro Bowl slates, Beckham played a key role in the Giants reaching the playoffs. Though the 2014 first-round pick missed 16 games over the past two seasons, his 92.8 receiving yards per game rank second all time.
"I think allowing me to be in an environment where I can be myself and give it a different approach, I feel like my football will benefit," Beckham said. "I'm just excited about being able to play football again and not have to deal with all the other stuff and politics that came with my previous role."
The sixth-year receiver now joins longtime friend and former LSU teammate Jarvis Landry in northeast Ohio. That duo will be tasked with being an essential part of ending the Browns' 16-season playoff drought. The five-year, $90MM extension Beckham signed in 2018 has him tethered to the Browns through 2023.
"I'm very excited by the culture at the Browns. It's been building over the years, and they've got players over there who I just know I'm gonna click with," Beckham said. "Jarvis is a brother of mine, and we dreamed of this moment. It's just crazy that it's actually happening."
Follow @PFRumors