Jaguars cornerback Jalen Ramsey has been vocal about his desire for a contract extension for quite some time. He's still after a long-term deal, but this time around, he says he won't be willing to give the Jaguars any sort of hometown discount. In a chat with teammate Leonard Fournette on Instagram (video link), Ramsey gave some insight into his future negotiating position.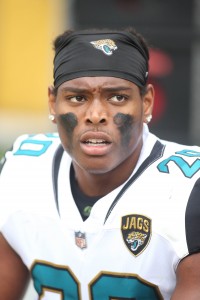 "Next year, especially after I ball, they're going to come to me 'Hey, you know, we want to holler at you," Ramsey said as he shook his head. "That number is going to be so ungodly.…They're going to say, 'Oh god, can't we get a little discount, 20% off?' I'm going to tell them last year you could have gotten that discount. This year, I'm going to need all of that."
The Jaguars exercised Ramsey's fifth-year option, locking him down through the 2020 season. After that, the Jaguars could theoretically keep him from free agency with the franchise tag, but it would be costly, and there's no guarantee that Ramsey would cooperate.
Recently, Ramsey said the Jaguars told him that he won't be receiving an extension offer this year. When the two sides eventually sit down to talk business, the Jaguars might not like what they hear.
Photo courtesy of USA Today Sports Images.
Follow @PFRumors