We don't know if Lions cornerback Darius Slay has explicitly asked the club for a new contract like defensive tackle Damon Harrison has, but we do know that neither player is taking part in Detroit's OTAs. GM Bob Quinn has said that Harrison's absence is not related to his contract, but that seems unlikely, and Dave Birkett of the Detroit Free Press writes that Slay and Harrison are indubitably angling for new deals.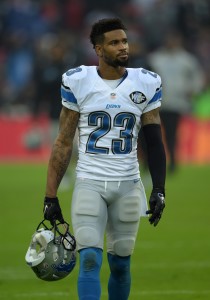 Birkett goes on to examine the dilemma that Quinn faces in those negotiations, if he chooses to open negotiations at all. Both players have two years remaining on their current contracts, and teams are loath to extend contracts that have more than one year left. Plus, Slay is 28 and Harrison is 30, so while the defensive standouts have some quality play left in them, the Lions do not want to fork over big money for declining performance.
On the other hand, the Lions cannot afford a repeat of their disappointing 2018 season, and if they believe keeping Slay and Harrison happy financially will ensure their continued strong play, then they may be willing to talk. Then again, it may be just as likely that the players will be more motivated to play well if they are still trying to land one last big contract.
After all, Slay and Harrison have already forfeited $250K workout bonuses by staying away, and Birkett believes that neither player is likely to hold out into the regular season, when the real fines start to accumulate (though both Slay and Harrison are represented by Drew Rosenhaus, so all options are theoretically on the table). As such, the Lions could cross their fingers and hope that Slay and Harrison report to training camp, soldier through the regular season, and revisit negotiations in 2020. Alternatively, since both players are now underpaid relative to their peers, but not dramatically so, the team could add a pay bump or an incentive package to their current deals without tacking on additional years.
Interestingly, Harrison himself took to Twitter yesterday and said that major news is coming soon, so we'll have to wait and see exactly what he's referring to.
Photo courtesy of USA Today Sports Images.
Follow @PFRumors