Gerald McCoy agreed to sign with the Panthers today, opting to remain the NFC South rather than venture to the Browns or Ravens in the AFC North. Apparently, though, Baltimore did everything it could to bring McCoy into the fold.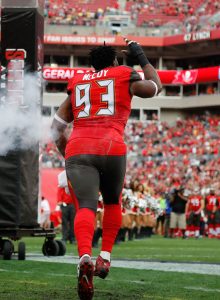 McCoy landed a one-year, $8MM pact from Carolina that could be worth as much as $10.25MM. However, only $4MM of that is guaranteed, and as Ian Rapoport of NFL.com reports, the Ravens were willing to give McCoy double that amount in fully-guaranteed money (video link). RapSheet adds that the Browns also put together a strong package that may have surpassed the Panthers' offer.
It's unclear what incentives Baltimore or Cleveland were offering to enhance the value of their proposals, but many of the incentives in McCoy's Panthers deal do not seem especially difficult to achieve (provided he remains healthy). McCoy is due $3MM in base pay — and it's not as though the Panthers are going to cut him to avoid paying that salary — and he can earn $500K in camp roster bonuses, another $500K in 45-man per game bonuses, $500K if he tallies six sacks, and $1.5MM if he posts eight sacks. He also has playoff and Pro Bowl incentives. The eight-sack incentive may be a tall order, but the others are either very likely or at least attainable (and McCoy did tally 8.5 sacks in 2015, with totals of seven, six, and six in each of the past three seasons).
So in reality, McCoy may ultimately earn just as much in Carolina as he would have with the Ravens or Browns (both of whom also boast strong front-sevens). But McCoy was drawn to the camaraderie he saw during his visit with the Panthers, and he preferred to remain in the South. He enjoyed his visits to Cleveland and Baltimore but had reservations about the cities themselves.
Of course, the chance to exact revenge on the Bucs likely had at least some part in McCoy's decision, especially with Tampa Bay giving McCoy's No. 93 to new signee Ndamukong Suh.
Photo courtesy of USA Today Sports Images.
Follow @PFRumors