Former Patriots linebacker and current ESPN analyst Tedy Bruschi suffered a stroke Thursday, per a statement from his family. The statement, which can be found on the Tedy's Team Instagram page, reads as follows: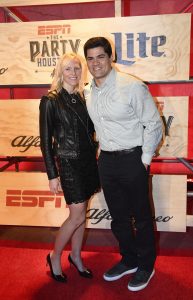 "Yesterday afternoon, Tedy had a stroke, known as a TIA. He recognized his warning signs immediately: arm weakness, face drooping and speech difficulties. Tedy is recovering well, and would like to thank the nurses, doctors and staff at Sturdy Memorial Hospital for all they have done. Tedy and his family thank you for your ongoing encouragement, and kindly ask for privacy at this time."
The good news is that Bruschi is, as the statement indicates, recovering well. The bad news is that this is not the first stroke Bruschi has suffered. Just three days after playing in Super Bowl XXXIX in February 2005, Bruschi had a mild stroke that stemmed from a congenital heart defect. He returned to the playing field later that same year, appearing in nine games (all starts) for New England during the 2005 campaign.
That experience, which led to the creation of Tedy's Team — a foundation dedicated to raising funds for stroke research — also apparently helped Bruschi to recognize his symptoms on Thursday and to immediately seek medical attention.
One of the most beloved players in New England franchise history and a member of the club's Hall of Fame, Bruschi spent his entire career with the Pats, winning three Super Bowls during that time. Although it took a couple of years for the Arizona product to become a full-time starter after New England made him a third-round pick in the 1996 draft, he ultimately played in 211 games for the team, starting 156 of them (including playoffs). He racked up over 1,100 tackles in his career, along with 35 sacks, 14 interceptions, and four pick-sixes. He received one Pro Bowl nod and shared 2005 Comeback Player of the Year honors with Steve Smith.
We at PFR wish Bruschi the best in his recovery.
Photo courtesy of USA Today Sports Images.
Follow @PFRumors