Frank Gore, 36, has the fourth-most rushing yards in league history (14,748), and he could surpass the legendary Barry Sanders for third place on the all-time list this season. But while he continues to defy the odds for running backs, Gore said he is not yet contemplating retirement.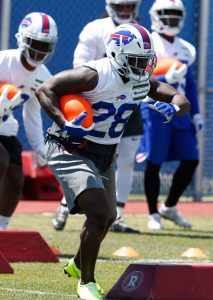 Gore, via David Furones of the South Florida Sun-Sentinel, said, "I just go how I feel. If I feel I can't do it no more, then I call it." 
Oftentimes, players in the latter stages of their career proclaim that a given year will be their last in the league, even if they end up backtracking later. Gore, though, will apparently keep the legs churning until he feels his body can't take it anymore.
And for good reason. Last year, in his one and only season with his hometown Dolphins, Gore managed 4.6 yards per carry off of 156 attempts and added 12 catches for 124 yards. He no longer profiles as a workhorse back, but he's still quite productive when used in the right measure. And given that the Bills have a large stable of running backs, headed by veteran LeSean McCoy, Buffalo will likely be able to keep Gore on a pitch count that maximizes his effectiveness.
Gore said he signed with the Bills — the first cold weather team he has suited up for — because of how much they showed they wanted him. He said, "[i]t was the second year where they came after me. They showed that they wanted me again. In this league, especially at my age, you want to be wanted. That's a factor that [went into the decision], especially coming off an injury."
When he does hang up the cleats, Gore said he will retire as a member of the 49ers, who selected him in the third round of the 2005 draft and with whom Gore spent the first 10 years of his career. Even if he does not play for San Francisco again, Gore will sign a one-day contract with the team when the time comes.
Gore is a five-time Pro Bowler but has yet to win a Super Bowl (though he came close in 2012). If he wants a ring before he retires, he will likely have to play at least one more year, as the Bills do not profile as championship contenders this year.
Photo courtesy of USA Today Sports Images.
Follow @PFRumors