The Seahawks' quarterback room has some serious name value. Behind starter Russell Wilson, the club is currently rostering both Geno Smith and Paxton Lynch.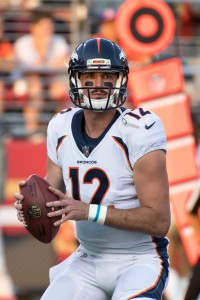 The odds of both players making the final cut is slim. Historically, the Seahawks have carried only two quarterbacks on the 53-man roster and both players have their warts.
Smith, a former second-round pick of the Jets, has yet to do much at the pro level. Once positioned as the Jets' starting quarterback, his last attempt at NFL relevance was stopped by the fist of a teammate and a subsequently broken jaw. Lynch, a former first-round pick of the Broncos, lost the starting QB competition twice to former seventh-round pick Trevor Siemian.
To date, Lynch has four career starts on his resume with a 61.7% completion rate, 792 passing yards yards, four touchdowns, and four interceptions. Smith – who has 40 career appearances with 31 starts – hasn't fared much better in a larger sample. He's completed 57.7% of his throws with just 29 touchdowns against 36 picks.
One of these QBs will probably be out of Seattle by the time September rolls around, and there's a chance that both will be gone. Last year, the Seahawks traded for Brett Hundley in the preseason and installed him as Wilson's backup, so the Seahawks' next No. 2 QB could be with another team as of this writing.
If things don't work out for Lynch or Smith, they'll have options. Despite their missteps, they're both on the right side of 30 and may still hold appeal for evaluators who considered drafting them just a few years ago. And, if an NFL opportunity doesn't present itself, both players may find a home in the upstart XFL.
"We're watching the backup quarterback camp battles. One of these guys is going to get cut," XFL commissioner Oliver Luck said of the Smith/Lynch situation. "There's a bunch of those going on. We might not get all of those guys, the quote-unquote loser of those, but a Geno or Paxton is not going to end up on a practice squad. There are a bunch of 3-4-5-year guys that are in that boat. They've been on rosters, practice squad, been yo-yo'd two years. They need to play, and that's my argument to them, that it's very doable here."
Both players have just $25K guaranteed on their one-year deals, so the Seahawks wouldn't lose much by releasing either player.
Photo courtesy of USA Today Sports Images.
Follow @PFRumors