Titans left tackle Taylor Lewan has officially been suspended for the first four games of the 2019 season for violating the NFL's policy on performance-enhancing substances, according to a team announcement. Lewan was first hit with the ban late last month and the official denial of his appeal means that he will be out for the first four games of the season.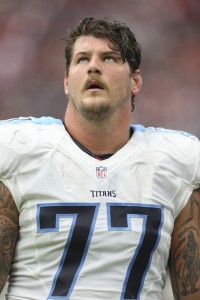 Lewan vehemently denied the use of PEDs and even said that he took a polygraph test to prove his innocence. Unfortunately for him, that wasn't enough to sway those in charge.
"It's a really horrible situation to feel like this, and to walk into the locker room and tell those guys you're not going to be with them for four games – it breaks my heart," Lewan said last month. "It's tough, man. But I've been very candid with [GM] Jon (Robinson) and [head coach] (Mike) Vrabel and [owner] Amy (Adams Strunk) and told them right away. I don't want the legacy, or whatever I have done in the last five years, to be tarnished because of this, because of something like this, that was a complete accident that I'm going to try and make up for."
According to the league, Lewan popped positive for ostarine, which is used to combat muscle wasting. Lewan, meanwhile, says he didn't "knowingly" take anything to skirt the rules.
Lewan will be eligible to play for the first time in 2019 on October 6 vs. the Bills.
Photo courtesy of USA Today Sports Images.
Follow @PFRumors