Tensions have been boiling between the Jaguars and Jalen Ramsey for quite some time. The cornerback wants out, but owner Shad Khan doesn't necessarily want to let him get away, as Ian Rapoport of NFL.com reports.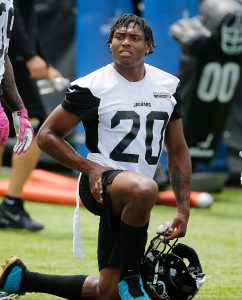 The assumption has been that Jacksonville's game against Tennessee last night would be Ramsey's last in a Jaguars uniform. After all, Ramsey, who is due for a massive contract in the near future, requested a trade earlier this week, and virtually all of the league's other 31 teams have expressed at least some degree of interest. Plus, the Jags have received multiple trade offers that include a first-round draft choice heading to Jacksonville, though it doesn't sound as if a rival club has dangled two first-rounders, which is what the Jaguars are reportedly seeking.
But Khan apparently wants to continue building around Ramsey, one of the league's best corners, and he's willing to pony up record-breaking cash to do it. Presently, Miami's Xavien Howard is at the top of the cornerback market in terms of total contract value ($75.25MM) and AAV ($15.05MM), while Washington's Josh Norman is the pacesetter in terms of fully-guaranteed money ($36.5MM). Given his youth and track record, Ramsey should easily clear those numbers.
However, Ramsey is dissatisfied with at least one member of the club's front office, and while we don't know for sure, it's reasonable to guess that he and executive VP Tom Coughlin don't have the warmest of relationships. Perhaps a contract that far exceeds those of other top corners will be the salve that keeps Ramsey in Jacksonville for the long haul (unless another team does offer two first-round draft picks for him, which would be very difficult for Khan to turn down).
Ramsey refused to talk about his trade demand after last night's win.
Rory Parks contributed to this post.
Photo courtesy of USA Today Sports Images.
Follow @PFRumors