Jets star safety Jamal Adams caused quite the stir this week when he unfollowed the Jets on Instagram (In this day and age, that's a big deal.) However, in a radio interview this week, Adams indicated that he isn't looking to force a trade.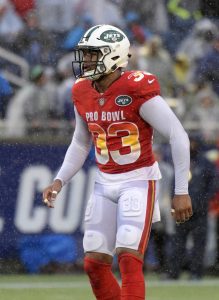 "It's social media. It's outside noise," Adams said, while refusing to explain why he created the social media drama in the first place (via Howie Kussoy of the New York Post). "I'm not focused on that..I'm focused on this team. I'm not focused on the outside noise. I'm just focused on how we can get better and get a win."
The Jets have gone 9-25 since Adams was drafted by the club and things probably aren't going to get better in the coming weeks as Sam Darnold remains sidelined with mono and Luke Falk runs the offense. Still, Adams says everything is cool between him and coach Adam Gase – even after Gase pulled him off the field late in Monday night's loss due to back-to-back penalties.
"He wants to win as much as anyone I've ever been around. I'm sure at that point in the game he was extremely frustrated," Gase said. "When he gets like that, and you want to go make a play, and the score's a little lopsided like that, you get a little over-aggressive. … I thought it was a smart idea as far as just trying to do that and get him settled down."
Gang Green – also known as the Walking Wounded – will face the Patriots on Sunday.
Photo courtesy of USA Today Sports Images.
Follow @PFRumors