The Dolphins claim they aren't tanking, but their fans are skeptical of that. Turns out, the NFL is a bit skeptical, too. The league's competition committee is likely to look into whether the Dolphins have purposefully stripped down their team in 2019 in order to lose games and secure the No. 1 overall pick in the 2020 draft.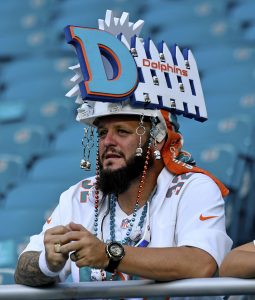 "The committee will probably have the questions posed to it again, if not by the media, maybe by teams," a league source told Daniel Kaplan of The Athletic. "It's likely the competition committee will have to address this issue."
The committee would certainly have a good case to make, should they prob into the Dolphins' affairs. In the last few weeks, the Dolphins have unloaded young stars Minkah Fitzpatrick and Laremy Tunsil in exchange for draft capital. Meanwhile, they've been outscored 102-10 through two weeks of the season.
"It's a bad look," said one team source.
There is some precedent for the league looking into potential tanking. Five years ago, the committee questioned the Browns' motives, but ultimately did not take action.
This time around, it's possible that the NFL will give real thought to installing a lottery system for the draft, similar to the NBA.
Photo courtesy of USA Today Sports Images.
Follow @PFRumors