The Jets passed on offers for Jamal Adams before the trade deadline, signaling a desire to keep one of the game's best young safeties in the fold. After rejecting the Cowboys, Ravens, and others, the Jets will now have to focus on mending fences.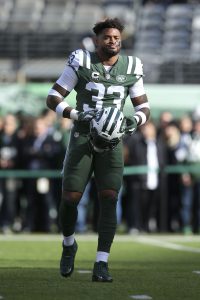 In a Wednesday press conference with reporters, Adams said that he was "hurt" by the rumors. Then, he professed his love for the Cowboys.
Here's a look at the highlights of Adams' bizarre presser, via Brian Costello of the New York Post.
On the trade rumblings:
"When I heard that, my agent called me and told me what was going on, it definitely hurt me…I hold myself at a high level. The Rams don't take calls on Aaron Donald. The Patriots don't take calls on Tom Brady. That's where I hold myself. When you feel like you're on the same page and you have a meeting and you're told something different, it sucks."
On the Cowboys:
"I would love to go to (the Cowboys). I am born and raised in Dallas. … Michael Irvin is like my uncle."
On whether he wants to remain with the Jets beyond this season:
"For the future, I don't know. I really don't. I thought I did, but I don't know right now."
"I have a lot of goals and aspirations and dreams here in New York. I was told something and it didn't happen that way…For three years, I came here and I've done nothing but work my butt off, continue to improve, continue to be a great leader, continue to be a great teammate, and when you see certain things like that, you hear about it, you get calls, you're in shock a little bit. At the end of the day, it's a business. I get it. I understand it. I hold myself in a high regard and obviously they don't feel that way."
Photo courtesy of USA Today Sports Images.
Follow @PFRumors