Colts wide receiver T.Y. Hilton will likely miss 3-4 weeks of action, head coach Frank Reich announced. With that, Hilton has been ruled out for Sunday's game against the Steelers.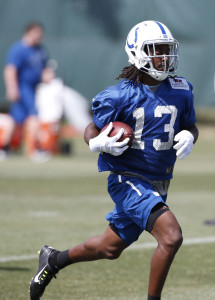 It's a bad blow for the Colts, who are 5-2 and aiming to build off of a three-game winning streak. Hilton has been playing through pain for most of the season. He's already missed two games this year due to a quadriceps injury and other trouble. Now, he has a new issue to deal with – a calf injury, suffered in practice on Wednesday. The team has yet to nail down Hilton's timetable, but Reich noted that Hilton's injury "generally" calls for 3-4 weeks of rest and rehab.
Hilton, 30 in November, has 32 catches for 360 yards and five touchdowns in his six games this year. That's a far cry from his best work, including a 2018 season in which he had 76 grabs for 1,270 yards and six scores. Worth noting: Hilton missed two regular season games last year and the Colts lost both contests.
The timing of the injury is especially unfortunate since the trade deadline was on Tuesday. The Colts' options to replace Hilton, at this juncture, are somewhat limited. It seems likely that they'll put in a waiver claim for Josh Gordon, but their 5-2 record means they're unlikely to snag him.
Hilton, a former third-round pick, is under contract through 2020 thanks to the five-year, $65MM extension he signed with the club in 2015. He's due $14.5MM in base salary next year, but the Colts would not be left with any dead money if they choose to release him.
Photo courtesy of USA Today Sports Images.
Follow @PFRumors