Although the Giants suffered an embarrassing loss to the Jets on Sunday, head coach Pat Shurmur will not be fired before the end of the 2019 season, as Ralph Vacchiano of SNY.tv writes. Furthermore, team ownership is not going to force Shurmur to make any changes to his staff, which means that DC James Bettcher is safe as well.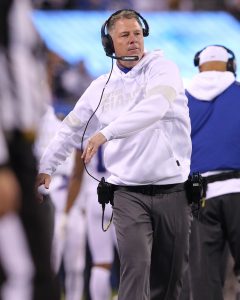 That does not mean, however, that both men will be with the Giants in 2020. New York is 2-9, and while the club's roster has some major holes, Shurmur's play-calling has come into question during his two-year tenure with Big Blue (though as Josh Alper of Pro Football Talk writes, Shurmur has no intention of giving up play-calling duties). Shurmur has also come under fire for his in-game decision-making.
Meanwhile, Bettcher is in charge of the league's 26th-ranked defense, but he has very little talent at his disposal. As Jordan Raanan of ESPN.com observes, Bettcher is operating without a quality pass rusher, middle linebacker, or cornerback, which has greatly limited the aggressive approach that he is known for. Raanan, like Vacchiano, believes that Bettcher will at least survive through the remainder of 2019, though if he is to be evaluated solely on the performance of his unit over the final seven games, he may not get another shot in New York. But Vacchiano says team brass recognizes the difficult position that Bettcher has been put in, and if the club's rookies and younger players show signs of life down the home stretch, he could be retained for next year.
Shurmur could also get a third season in New York thanks to his work with rookie QB Daniel Jones. Though Jones has struggled with turnovers, he otherwise looks the part of a franchise signal-caller, and the Giants certainly don't want to do anything to hinder Jones' development. If that means keeping Shurmur around for another season, then so be it.
Likewise, GM Dave Gettleman could be on the hot seat, but his selection of Jones — which was heavily criticized in the offseason — may be what saves him. But Raanan says that ownership will think long and hard about Gettleman's future with the team this offseason, and as of right now, there are doubts as to whether he is the right man to restore the Giants to competitiveness.
Photo courtesy of USA Today Sports Images.
Follow @PFRumors