Friday afternoon continues to supply coaching news, which is fairly atypical for July. Pat Shurmur, who did not coach last season, will catch on in the college ranks. Deion Sanders is adding the two-time NFL HC to his Colorado staff, Mike Klis of 9News tweets.
Most recently the Broncos' offensive coordinator, Shurmur has not coached in college since the late 1990s. Andy Reid hired Shurmur for his first Eagles staff back in 1999, bringing him over after a role as Stanford's offensive line coach. From then until the 2021 season, Shurmur coached in the NFL. But Colorado will bring him aboard. 247Sports.com's Carl Reed Jr. was the first to report the hire was expected (Twitter link).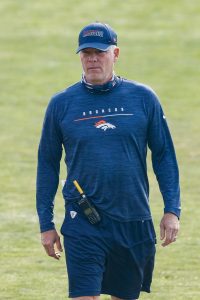 Formerly a head coach with the Browns and Giants, Shurmur caught on as the Broncos' OC in 2020. Not exactly saddled with prime ingredients on offense during that stay, Shurmur was out once the team fired Vic Fangio. But Shurmur's 2021 work looks better after what happened in Denver last year. Using Teddy Bridgewater as their primary starter, the 2021 Broncos ranked 23rd in points. This came with three Drew Lock starts and two extended appearances by the struggling second-round pick. Last season, the Broncos' Nathaniel Hackett–Russell Wilson partnership produced a last-place scoring ranking.
Shurmur, 58, is expected to serve as an offensive analyst with the Buffaloes, Reed adds. While Shurmur has been in the NFL since 1999, he did make that jump after a lengthy stay in the college ranks to start his career. Michigan State employed Shurmur as an assistant from 1988-97.
Although the Browns and Giants both fired Shurmur (19-46 as a head coach) after two seasons, he has enjoyed success as an assistant. Most notably, Shurmur earned Assistant Coach of the Year acclaim for his 2017 work in Minnesota. Despite losing starter Sam Bradford early that season, the Vikings soared to a 13-3 mark and earned the NFC's No. 2 seed behind backup Case Keenum. In what proved to be an outlier season, Keenum led the NFL in quarterback DVOA and won a back-and-forth matchup against the Saints to book the Vikings in their first NFC championship game since 2009.
After spending 10 seasons on Reid's Eagles staff, Shurmur enjoyed three opportunities as an NFL OC. He served in that capacity with the Rams (2009-10) and, after the Browns stint, back with the Eagles (2013-15). Shurmur called plays for the Vikings, Giants and Broncos from 2017-21. The Commanders interviewed him for their OC position this offseason, but the job went to Eric Bieniemy.