FEBRUARY 19: The Broncos interviewed Vance Joseph on February 17, and Ryan got a second interview on February 18, as Adam Schefter of ESPN.com tweets. Mike Klis of 9News confirms that both Joseph and Ryan are in the "second round" of the process, though he adds that a decision is not necessarily imminent and that Payton may choose to interview another candidate or two before making a final decision (Twitter link). Per Schefter, Ryan would only leave ESPN "for the perfect situation."
Troy Renck of Denver7 adds (via Twitter) that Joseph's interview lasted eight hours, and that Ryan's interview was also a lengthy one. Both men have made strong impressions.
FEBRUARY 15: Despite not coaching in the NFL since 2016, Rex Ryan is reportedly emerging as the Broncos' top candidate to serve as Sean Payton's first defensive coordinator in Denver, according to Ian Rapoport of NFL Network. The former NFL defensive coordinator and head coach would be making his first appearance on an NFL sideline since being fired by the Bills two years into a five-year contract.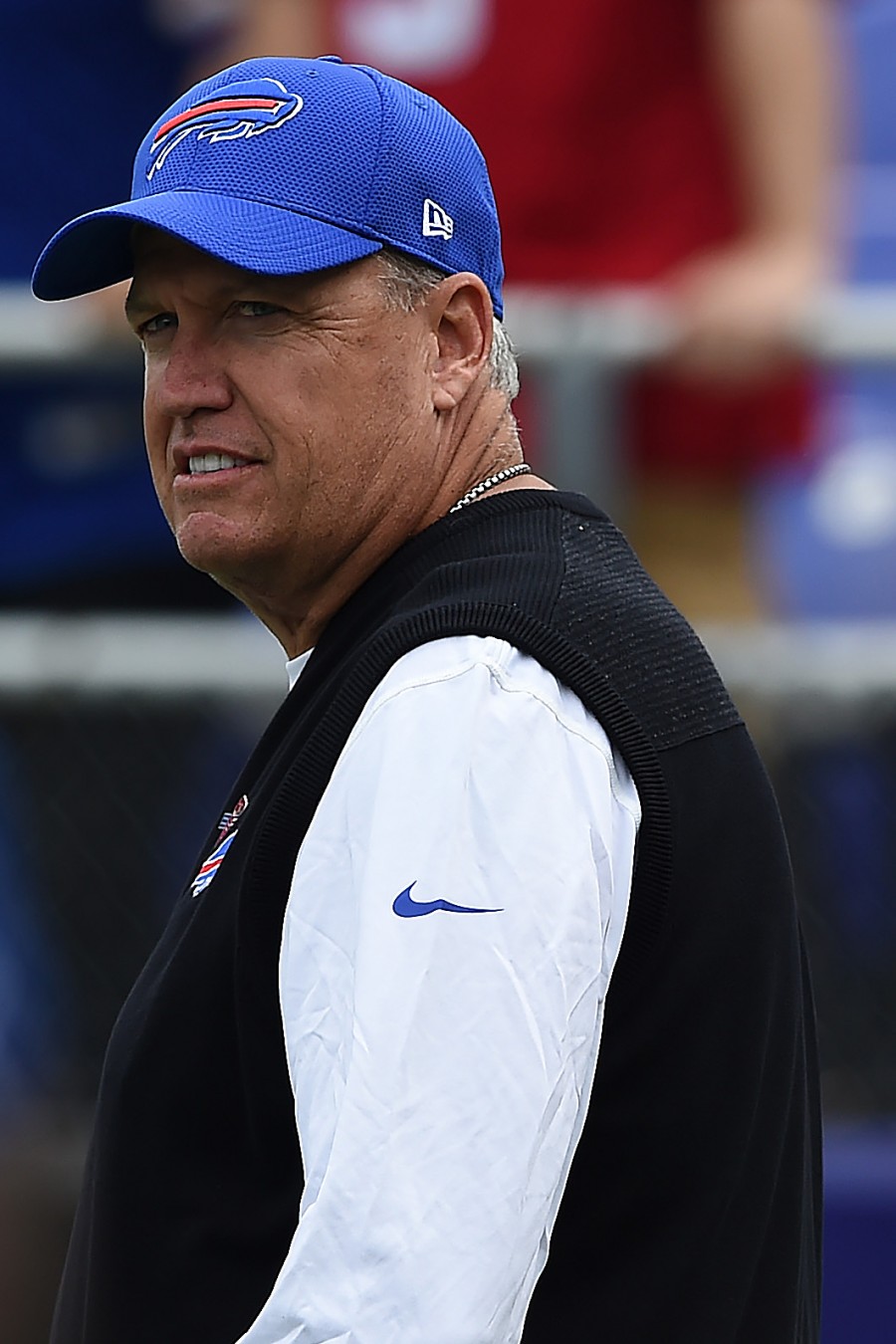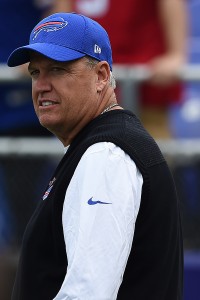 Before leaving the NFL, Ryan had been coaching football since 1987, when he served as a graduate assistant at Eastern Kentucky. After two years in the position, Ryan earned his first defensive coordinator position (along with a title of assistant head coach) at New Mexico Highlands University. The next year, Ryan would coach for a more notable school, serving as defensive coordinator at Morehead State.
Ryan would continue his rapid ascent from there, earning his first NFL job, with a little help from his father (and head coach in Arizona) Buddy Ryan, after four years at Morehead State. He spent two years as the defensive line and linebackers coach for the Cardinals before returning to the college ranks as defensive coordinator at Cincinnati. After two years with the Bearcats, Ryan served as defensive coordinator for Oklahoma for a year before returning to the NFL.
This time, Ryan's move to the NFL would be permanent. Ryan accepted the job of defensive line coach for the Ravens, the team that would employ Ryan for the longest tenure of his career. Ryan coached a defensive line that helped the Ravens boast the best defenses in Baltimore history and, arguably, some of the best defenses in NFL history. He was rewarded with the defensive coordinator position five years later in 2005.
After a 2007 season that saw the Ravens finish 5-11, head coach Brian Billick and the rest of the staff were laid off. Ryan, being the coordinator of a defense that still ranked sixth in yards allowed despite the abysmal record, was an obvious candidate to replace Billick, but the job would go to current Ravens head coach John Harbaugh, who wisely chose to retain Ryan as defensive coordinator and promoted him to assistant head coach, as well. In his final season with the Ravens, Ryan led the league's second-best defense in terms of yardage allowed (third-best in points allowed), assisting Harbaugh and rookie quarterback Joe Flacco in becoming the first rookie head coach and quarterback combo to advance to the AFC Championship game. In his ten years with the Ravens, the team never finished worse than sixth in the league in yards allowed.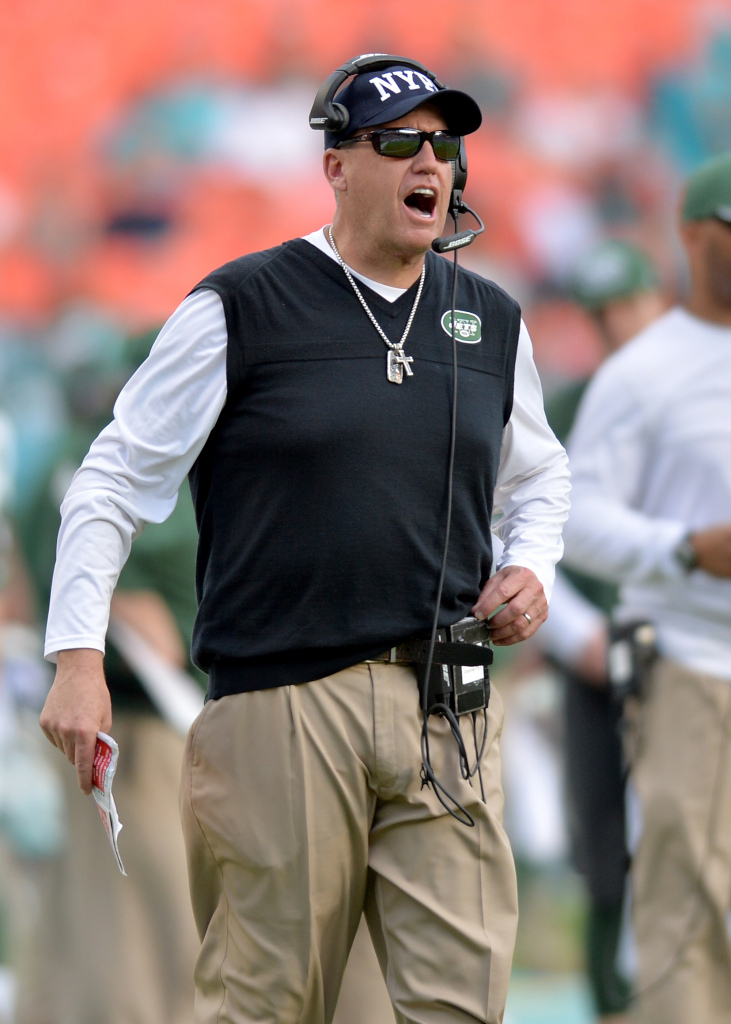 Ryan's performance in 2008 resulted in his first head coaching position as he was hired to replace Eric Mangini in New York. Ryan essentially copied and pasted his last year in Baltimore during his first year with the Jets. On the back of the league's top defense in yards and points allowed, the Jets went 9-7 and became the league's second rookie head coach and quarterback duo to advance to the AFC Championship game with rookie quarterback Mark Sanchez, one year after his former team accomplished the same feat. It was also the Jets' first appearance in the league's penultimate round of the playoffs since 1998.
In his second season as head coach of the Jets, Ryan would lead New York to the AFC Championship game for the second year in a row after going 11-5 in regular season play. The regular season and playoff success would end there, though, as the Jets would go a combined 26-38 in the next four seasons, culminating in the 4-12 season that would lead to his dismissal from the Jets, despite the support of players.
Seeing the coaching potential still present in Ryan, the Bills quickly scooped him up about two weeks later to be their next head coach. In two years in Buffalo, Ryan went 15-16, failing to make the playoffs in both years and getting fired before he could finish his second season with the team. He made a few interesting hires while head coach there, hiring his fraternal twin brother, Rob Ryan, as assistant head coach and defensive coordinator and hiring his former player and star safety Ed Reed as his defensive backs coach in 2016.
After exiting the coaching ranks of the NFL following his departure from Buffalo, Ryan has served as an analyst and broadcaster for ESPN . He reportedly interviewed with the Broncos this past weekend, marking the first time his name has come up in league circles in quite a while. He doesn't seem to have much of a past connection to Payton, besides the fact that Payton hired his twin brother, Rob, to serve as defensive coordinator for a three-year stint following Payton's year-long suspension. Regardless, if Denver chooses to employ Ryan after seven years out of the league, we'll get the opportunity to see if he is still one of the league's most respected defensive minds in coaching.
Follow @PFRumors