After parting ways with offensive coordinators Joe Lombardi and Greg Roman, the Chargers and Ravens are both searching for new play callers to lead their young quarterbacks next season. Both teams took a step towards filling their empty roles today, requesting an interview with Rams passing game coordinator and quarterbacks coach Zac Robinson, according to reports from NFL Network's Tom Pelissero and Ian Rapoport.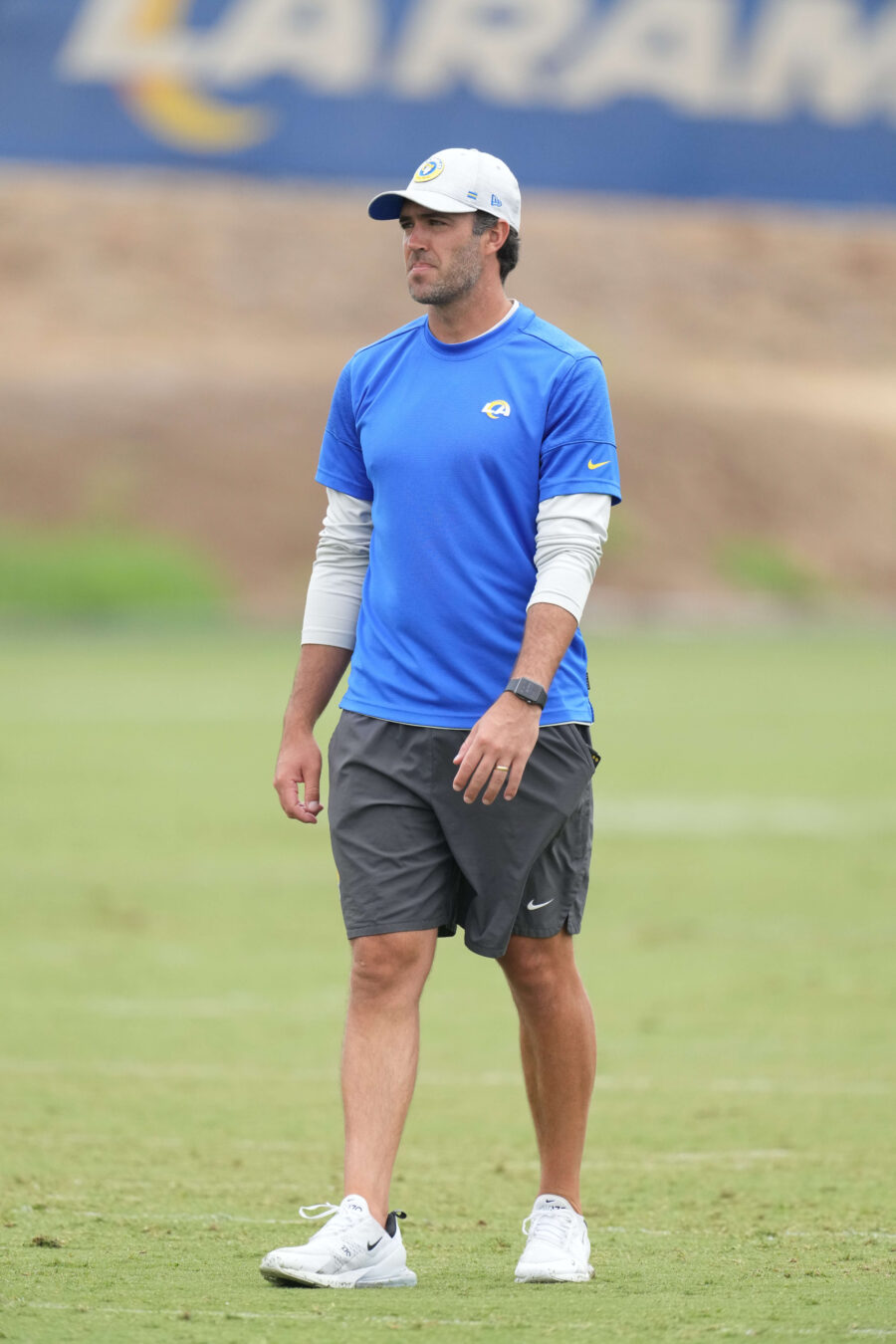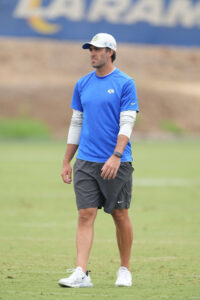 Robinson enjoyed a short career as an NFL quarterback after being drafted in the seventh round out of Oklahoma State in 2010. He bounced around from the Patriots to the Seahawks to the Lions all within his rookie season. After being waived by Detroit just prior to the 2011 NFL season, Robinson signed with the Bengals. He would remain in Cincinnati until injuries would effectively end his playing career in 2013.
After then-Rams quarterback coach Zac Taylor left to become the head coach of the Bengals, Robinson was hired as the assistant quarterbacks coach six years later in Los Angeles. He would momentarily be asked to change rooms as the assistant wide receivers coach but would switch back to assistant quarterbacks coach with the first departure of Liam Coen to Kentucky. When Coen returned as offensive coordinator, Robinson was promoted to passing game coordinator and quarterbacks coach, officially dropping the assistant moniker from the title.
The Rams offensive unit had an uncharacteristically poor statistical season this year. They were surely hampered by injuries and losses to key players such as quarterback Matthew Stafford, wide receiver Cooper Kupp, and last year's leading rusher Sony Michel. Still, for a Rams offense that has routinely finished top-ten in the league in yards and scoring since Sean McVay took over in 2017, finishing 27th in the league in scoring and dead last in yards gained this season is a stark change from the norm in Los Angeles.
This downturn in production hasn't stopped the Chargers and Ravens from showing their interest in the 36-year-old assistant. The other Los Angeles team is set to interview Robinson on Monday, according to Albert Breer of NBC Sports. The date and time of his interview with Baltimore has yet to be determined.
Robinson has a connection to Chargers head coach Brandon Staley, who coached alongside him for the Rams in 2020, when Staley served as the team's defensive coordinator. Los Angeles is a potentially attractive destination full of offensive talent. With a young quarterback in Justin Herbert, star running back in Austin Ekeler, veteran receivers in Keenan Allen and Mike Williams, and others, Robinson would be gifted a full cupboard of weapons.
The Ravens pose a different challenge for a rookie coordinator. The team certainly has weapons with former-MVP quarterback Lamar Jackson expected to return, a dangerous one-two punch of running backs in J.K. Dobbins and Gus Edwards, a star tight end in Mark Andrews, and young wideouts Rashod Bateman and Devin Duvernay, who were both having career years before getting injured. The challenge comes from the style of offense that Baltimore has run lately. Under Roman, the Ravens ran several run-pass option plays that utilized the team's rushing ability while allowing Jackson to punish defenses with his arm, as well. With some speculation that Jackson and company could move towards a pro-style offense, similar to what Jackson ran at Louisville, Robinson or any other new offensive coordinator would be tasked with implementing a whole new playbook in Baltimore.
The name Matt Weiss had been floated around Baltimore, as well, for the offensive coordinator position, but after being fired by the University of Michigan as he undergoes criminal investigation, according to Josh Alper of NBC Sports, Weiss is likely no longer being considered. Weiss had spent 12 years with the Ravens in a vast array of roles before joining the younger Harbaugh brother in Ann Arbor. He was promoted to co-offensive coordinator for the Wolverines this season before his off-the-field activities led to his termination.
Regardless, Robinson will throw his hat in the ring for both jobs. The Chargers and Ravens are the first teams to kick the tires on Robinson, but they surely won't be the last. Robinson looks to continue the branching out of McVay's coaching tree, adding to the list of young assistants who have found success out from under McVay's wing.
Follow @PFRumors