Alabama QB Tua Tagovailoa underwent surgery on his right hip Monday morning, the team announced. Tagovailoa was carted off the field during the Crimson Tide's victory over Mississippi State on Saturday due to a dislocated hip, and it was announced shortly thereafter that he would miss the remainder of the collegiate season.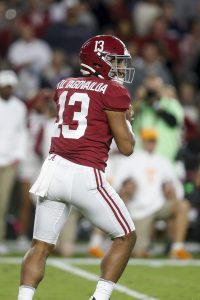 Of course, Tagovailoa was widely projected to be a top draft choice in the 2020 NFL draft, with some believing he could be the No. 1 overall selection. His injury threw not only his draft status, but his entire football career, into jeopardy, but it sounds as if the surgery went well. The statement, written by team orthopedic surgeon Dr. Lyle Cain, says Tagovailoa's prognosis is excellent and indicates the star signal-caller will make a complete recovery. Ian Rapoport of NFL.com passes along the full statement here.
Per Adam Schefter of ESPN.com, citing ESPN colleague Laura Rutledge, Tagovailoa will be rehabbing daily in Tuscaloosa (Twitter link). He will be able to resume athletic activity in three months and can begin throwing in the spring, so he may be able to fully work out for teams prior to the draft (if he chooses to enter).
Albert Breer of SI.com spoke with a few NFL execs to get their take on Tagovailoa's draft stock, and, as expected, it seems too early to tell how teams will view Tagovailoa in light of his newest injury (he also has had two ankle surgeries in the last year, and his smallish stature may make him more susceptible to injury). He may come back to Alabama for his senior season and try to prove that he is not a health risk, though one of the execs Breer spoke with said he should still enter the draft in 2020.
In any event, the fact that the surgery went well is good news, and if he does decide to become a pro next year, he could be available to teams that may not have otherwise had a shot at him.
Photo courtesy of USA Today Sports Images.
Follow @PFRumors