Panthers owner David Tepper was forced to make a difficult decision today, firing long-term coach Ron Rivera. Since Tepper took over ownership of the organization in 2018, he's had Rivera on the sideline. Now, the team will turn a page and start hunting for their next head coach.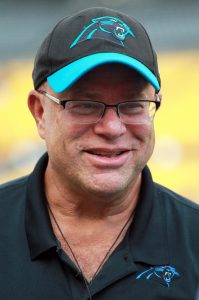 Secondary coach Perry Fewell will serve as the Panthers head coach on an interim basis. The shakeup also will see offensive coordinator Norv Turner transition to special assistant to the head coach as quarterbacks coach Scott Turner moves to offensive coordinator. When it comes to the front office, GM Marty Hurney will keep his job, but Tepper revealed that he'll be searching for an assistant general manager and/or a vice president of football operations.
Tepper sat down with Bill Voth of Panthers.com (Twitter link) this afternoon to discuss the coaching change, the owner's outlook for the organization, and the team's future shuffling of the front office. We've snagged all of the notable soundbites below:
On why he decided to fire Ron Rivera:
"[It was] a very hard move. Ron Rivera, besides being a good coach, is one of the finest men I've ever met in my life.
"Look, I came here two years ago. I wanted to show patience on the football side to see how it was going. On the business side, we made vast and sweeping changes. I didn't want to make those vast and sweeping changes on the football side. I wanted to take time and patience to see how it could go.
"I just thought it was time, given the way things have gone the last two seasons, to put my stamp on the organization on the football side, as we've done on the business side of the organization. As much respect as I have for Ron, I think a change was appropriate to build things the way I want things to be built."
On why the move was made now instead of after the season:
"There are competitive reasons why I wanted to make sure we were out there looking at all personnel possible for the future. I didn't want to be having inquiries where Ron didn't know what I was doing.
"I didn't want to be doing things not upfront; thats not who I am. So I'd rather be straight-up and honest, and if I'm going to make a change, I'm going to make a change. And not to get a competitive disadvantage over other teams; if I need to talk to people, i want to talk to them, and I want to do it in a straight-forward, honest way."
On why Fewell was chosen as the interim head coach:
"I have different coaches on the staff and I'm looking at the future now. And the future is: who may I have as potential candidates for different roles. Perry is a person who can command a room, can be a general, and I think that he is the right person to have that interim role… and to be auditioning for that role in the future.
"As far as the other choice we'll probably make is to make Scott Turner a play-call offensive coordinator. In that respect, same thing: I want to see what Scott can do. Again, in an audition sort of way, see how he does it. He has some new ideas, and we'll see how they get implemented."
On the decision to move Norv Turner from offensive coordinator to special assistant to the head coach:
"Norv Turner is obviously still a tremendously knowledgable coach who I respect a lot. Norv has been around and is very knowledgable. Scott is potentially a future offensive coordinator of some sort. Why not see what he has to offer here."
On what he'll be looking for in a new head coach:
"What I want, just for the organization in general, is a mesh of old and new. Old football discipline. Modern processes, modern analytics, statistics, and the rest of that. But I respect old discipline, too. Listen, I was with a team in Pittsburgh that was the epitome of old-school discipline, so I want to see that brought in, I want to see that mesh. And what I want to have more than anything…I want to put the best people in the best positions to be successful. And I want those coaches to put our players on the field in the best positions to be successful, period.
"This whole process – they don't build Rome in a day. People think if I make a magic change today, it's going to make the organization better tomorrow… it is not. This is going to be a process."
On how an assistant GM can help the front office:
"Marty Hurney is one of the best recognizers of college talent in the nation. I don't want to lose that. And he's also not a bad manager. There's also new processes that I want to bring in. I think the modern football organization needs a couple people there [in the front office]."
On what today's move means for the future of the organization:
"As far as a process is concerned, it's the first step in a process. I'm making sure we have a standard of excellence on all sides of this business."
Follow @PFRumors