How the Panthers proceed at No. 6 overall will be one of this draft's pivot points. Should the draft not produce a top-five quarterback pick or a trade-up into the top five for one, the Panthers will face a major decision. Two days ahead of the draft, different paths for this franchise continue to be mentioned.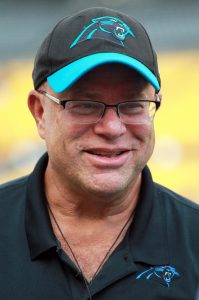 Some teams are convinced Carolina will pass on adding a quarterback at 6, Albert Breer of SI.com notes. The Panthers going with one of the higher-acclaimed tackles or pass rushers would add up, value-wise, though the team's biggest need would obviously remain. Carolina's lack of second- or third-round picks would point the team to a mid- or post-draft trade for a veteran QB.
Surely aiming to increase the value of the No. 6 slot, GM Scott Fitterer said "a handful" of teams have shown interest in trading up. While Fitterer added that there are "a couple" of QBs he would be comfortable drafting at 6, via ESPN.com's David Newton (on Twitter), the Panthers moving down would not surprise. Fitterer comes from Seattle, where trade-downs have been a staple, and adding a Day 2 pick or multiple Day 2 choices would help Carolina.
Indeed, the Panthers continue to be mentioned as a trade-down candidate, Ian Rapoport of NFL.com notes (video link). It might depend on which tackle the left tackle-needy Panthers like best. That player being gone at 6 could induce the team to move back. Another team eyeing a quarterback, potentially wanting to move in front of the Falcons (No. 8), would be another scenario that induces a Panthers move down the board.
Of course, Matt Rhule will enter the season on the hot seat. And a quarterback who once committed to his Temple team, Kenny Pickett, is now being connected to David Tepper as well. The Panthers owner "loves" the Pitt prospect, according to Jason La Canfora of CBS Sports, who mocks Pickett to Carolina at 6. Coming out of the Senior Bowl, the Panthers were connected to Pickett. The former Steelers minority owner, Tepper remains a Pitt booster, per JLC. The franchise that made a big offer for Matthew Stafford and chased Deshaun Watson for over a year decides deciding it cannot wait any longer to make a big splash at the position is not difficult to foresee.
Pickett, who could slide down draft boards if Carolina does not take him, would be a bold selection given the widespread skepticism attached to this QB class. The Panthers did visit with Pickett, Malik Willis and four other QB prospects earlier this month. But they would seemingly be better prepared to win in 2022 with Baker Mayfield, who could well be available (for less draft capital) after the draft. Jimmy Garoppolo would loom as an instant-starter option, should his shoulder rehab go well, after the draft as well. The veteran path will be one of the factors the Panthers must consider when they make their first-round selection.