The Panthers are likely keeping the No. 1 pick and they're likely using that selection on a signal-caller. Beyond that, their plan is up in the air. Naturally, the organization is doing their due diligence on the draft's top quarterback prospects.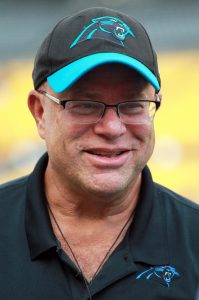 The organization had dinner with Alabama QB Bryce Young earlier this week, according to NFL Network's Mike Garafolo (via Twitter). Kentucky QB Will Levis also dined with a Panthers contingent that included owners David and Nicole Tepper, general manager Scott Fitterer, head coach Frank Reich, assistant GM Dan Morgan, VP Samir Suleiman, and coaches Jim Caldwell, Thomas Brown, and Josh McCown, per Albert Breer of TheMMQB.com (on Twitter). And, unsurprisingly, the Panthers will use one of their 30 prospect visits on Ohio State's C.J. Stroud, per NFL Network's Tom Pelissero on Twitter.
According to Jason La Canfora of the Washington Post, several team executives believe Tepper is leaning towards Young. However, if the decision was up to several coaches, Stroud would likely be the pick at No. 1. While the front office will surely factor in all of these opinions before the draft, they'll also be leaning on Caldwell, the team's new senior assistant. A source said the former coach and QB guru has "a huge voice in this process" and "might have even more say than the head coach." Ultimately, one rival official believes the decision will ultimately be made by Tepper.
"The owner is going to win that one if he falls in love with one of these kids," the source told La Canfora. "He's seen enough misevaluations of the position already."
After the Panthers sacrificed a pair of firsts, a pair of seconds, and wideout D.J. Moore for the first-overall pick, some pundits have wondered if Carolina could look to flip the pick again. "No one is buying" that the Panthers would consider trading the pick, according to La Canfora, with the reporter citing Tepper's desire "to get to this point." Indeed, Fitterer confirmed to Joseph Person of The Athletic that the organization hasn't received any calls about the top selection (Twitter link).