OCTOBER 15: While Reich has discussed handing play-calling duties to Brown at some point, that responsbility will remain with Reich for now, as Ian Rapoport of NFL.com writes. Carolina dropped a 42-24 decision to the Lions last week, but the stripped-down, streamlined offense that the club put in place to simplify matters for Young appeared to pay dividends, as the rookie passer threw for 247 yards and three TDs, both of which were season-high marks.
Interestingly, a source told Tyler Dunne of GoLongTD.com this week that some members of the Panthers organization approached Reich about the need to be more innovative on the offensive side of the ball, though it is unclear whether those conversations happened before or after Reich decided to simplify the playbook.
What is clear, as Rapoport observes, is that Reich's future in Carolina is tied to Young's success. So the HC will need to do whatever it takes to get this year's No. 1 overall pick to begin living up to his potential.
OCTOBER 12: The NFL's only 0-5 team, the Panthers are off to a worse start than the one that led to Matt Rhule's firing after five games last year. Carolina rallied under interim HC Steve Wilks, going 6-6 and having an unexpected opportunity to take the division lead in Week 17. A loss to the Buccaneers ended that, and the Panthers moved on from Wilks.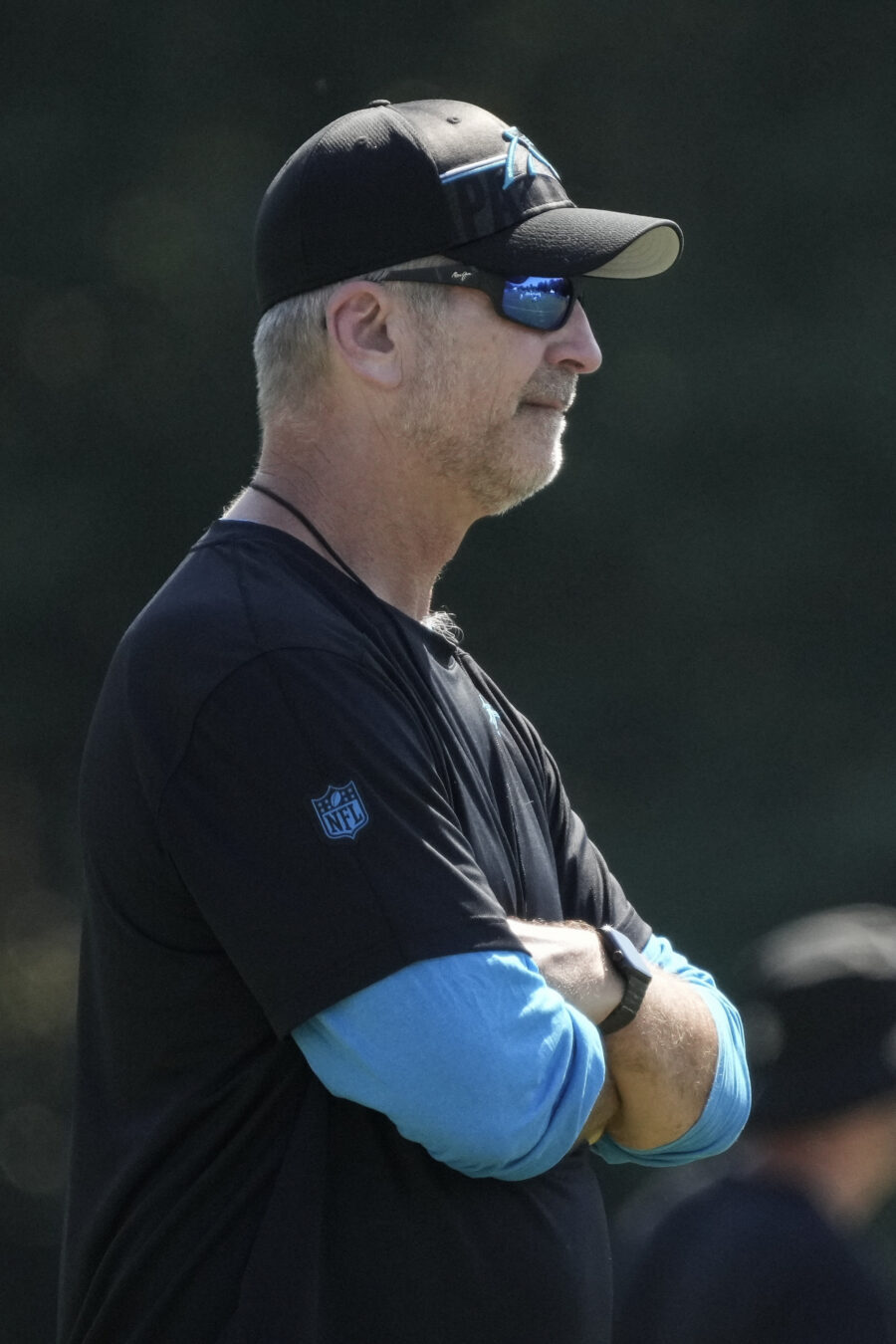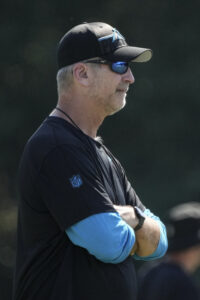 Frank Reich beat out Wilks for the HC job, but the two-time playoff-qualifying leader has now lost eight consecutive games dating back to his final stretch running the Colts. In addition to Reich, the Panthers paid up for high-profile assistants. They hired the likes of Ejiro Evero, who interviewed for all five HC jobs this offseason, and Thomas Brown — a Texans HC interviewee — as coordinators. Jim Caldwell, Josh McCown, Duce Staley and the Panthers' first HC — Dom Capers — are also in place. But the team has not found its footing with Bryce Young at the helm.
Reich said (via The Athletic's Joe Person) David Tepper has not discussed staff changes with him just yet, though the new Panthers HC confirmed past rumors that the sixth-year owner is frequently involved with football operations.
"Some owners kind of stay away and don't engage a whole lot. Other owners do. And his philosophy is he's gonna engage," Reich said, via Person (subscription required). "Listen, it's only been a short experience, but it's been a really good experience. … It hasn't been fun. I wouldn't characterize [weekly meetings with Tepper] as fun meetings. But those meetings make me better, and I trust they make us better."
Meddlesome ownership obviously could sound alarm bells for Reich, who is coming off an eventful final year with perhaps the league's most active owner (among those not holding GM titles as well). Jim Irsay began to spin back into high gear after the Colts lost as two-touchdown favorites to the then-downtrodden Jaguars to close out the 2021 season. Orders to trade Carson Wentz and then to trade for Matt Ryan emerged, and Irsay then insisted Reich bench Ryan for an unseasoned Sam Ehlinger. Irsay then fired Reich, despite extending him in 2021. The outspoken owner later said he reluctantly extended his five-year HC. The Jeff Saturday and Jonathan Taylor sagas proceeded post-Reich.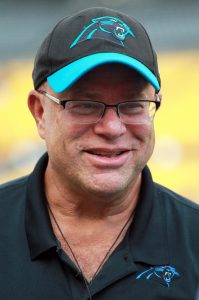 Tepper, who bought the team from Jerry Richardson in 2018, has developed a bit of a reputation on this front as well. Although subsequent reports indicated the Panthers came to an agreement on Young, a March report pointed to Tepper's Young preference over an early coaches' interest in C.J. Stroud. Before the 2022 season ended, Tepper was believed to be eyeing a move that solved the Panthers' years-long QB woes. Carolina indeed swung big, trading D.J. Moore and several high-level draft choices for the No. 1 slot.
Tepper also played a lead role in past quarterback pursuits, namely the controversial one surrounding Deshaun Watson — a journey that began after Matthew Stafford nixed a trade to Carolina. Tepper eyed Watson before the dozens of masseuses accused the then-Texans QB of sexual misconduct, and the Panthers revisited trade talks — along with the Dolphins — ahead of the 2021 deadline. While Tepper joined his Saints and Falcons peers in being unwilling to authorize a $230MM guarantee, Watson had eliminated the Panthers earlier due to some uncertainty about their power structure. Months later, the Browns and Panthers haggled about Baker Mayfield's contract for months — despite Rhule and Scott Fitterer wanting him in the building early — before the sides closed the deal. A report surfaced around the time of Tepper's about-face on Rhule that pegged the owner as "emotional" and difficult to work for.
That said, Reich was not in contention for another HC job this offseason and, at 61, the ex-Carolina QB may not have had many more chances as a lead candidate. His second HC opportunity has started quite poorly, with the Panthers holding a minus-53 point differential and lacking a first-round pick next year. It will be interesting to see how the Panthers proceed going forward, especially if the losing streak continues. The Panthers face the Dolphins in Week 6. Reich signed a four-year contract in January. Fitterer's five-year GM deal runs through the 2025 season.
Follow @PFRumors