JANUARY 1, 2023: Ian Rapoport and Tom Pelissero of NFL.com report that Saturday will "absolutely" be a candidate for the full-time gig, despite recent reports to the contrary. Irsay remains a "big fan" of Saturday, and if the surprising head coach can assemble a quality staff, he will have a real shot to have his interim tag removed. Given Indianapolis' traditional power structure — the head coach reports to the GM, who reports to the owner — the team's HC post may not appeal to high-profile candidates who want more personnel control. Indianapolis' uncertain quarterback situation won't help matters either.
DECEMBER 29, 2022: Jim Irsay's experiment to replace Frank Reich with Jeff Saturday has not gone well. The Colts won their first Saturday-coached game but have lost five straight, with the past two outings being the low point in a wildly disappointing season. Irsay has repeatedly said he will keep Chris Ballard on as GM, but the team's head-coaching situation will be in the spotlight.
Reich will be on the Colts' payroll for a while, having signed a four-year extension which is believed to be worth $9MM per year. Despite saying at the time the team had "as great a general manager-head coach combination as there is in the NFL," Irsay said during an ESPN interview this week (via the New York Post) he was not ready to extend Reich and did so "reluctantly."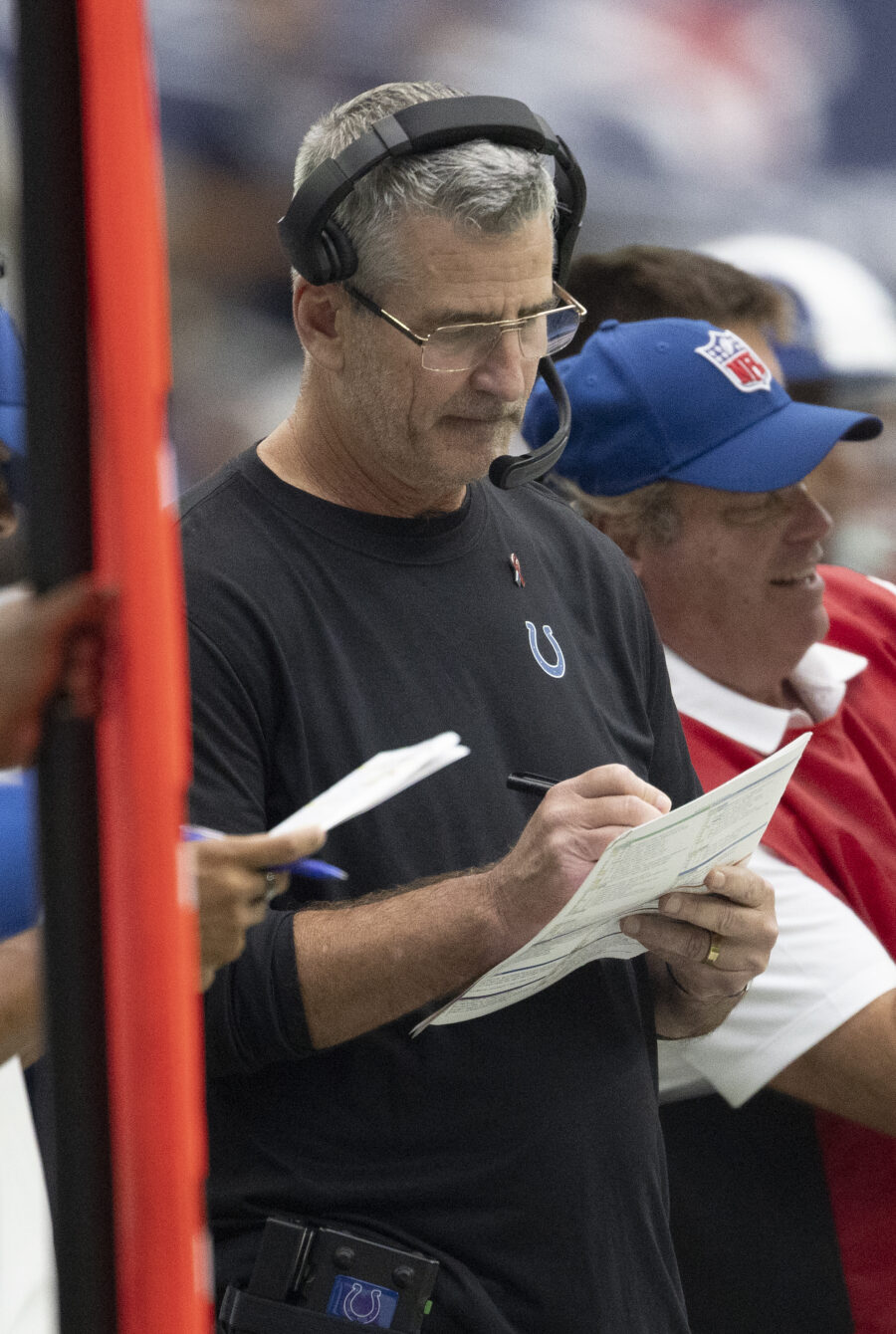 Although the summer 2021 Reich re-up may have been reluctant, Irsay was effectively out of time to hammer out that deal. Reich's original contract was for five years, and not extending him during the summer of '21 would have meant the Colts would have been close to having their head coach — who had ventured to two playoff brackets in three years, the second of which without Andrew Luck — moving toward a lame-duck year. Such arrangements are uncommon in the modern NFL, and Irsay provided Reich a second contract. Obviously, the Colts have changed course this year.
Irsay took on a lead role after the team's 2021 collapse, insisting on a trade of Carson Wentz and then instructing Ballard to complete the Matt Ryan deal. Irsay then drove Ryan's midseason benching for Sam Ehlinger and fired Reich soon after. Had Saturday not agreed to take over, Irsay said this week Reich would have stayed on longer this season. When asked if he would have fired Reich had Saturday passed on the offer, Irsay said he would have given Reich a bit more time.
Saturday accepting Irsay's offer led to full-scale blowback against the Colts, who made one of the most shocking interim hires in NFL history. The Colts are coming off back-to-back nationally televised losses, including the Vikings breaking Reich's near-30-year-old record by erasing a 33-point deficit in Week 15. Irsay said before this week's Chargers loss Saturday will be competitive for the full-time job and remains "an outstanding candidate." But execs around the league do not expect Saturday to stick around beyond this season.
The Colts allowing 33 fourth-quarter points to the Cowboys, in the second of their nationally televised Saturday losses, and blowing the lead in Minnesota have execs "convinced" the team will move on from Saturday at season's end, per Jason La Canfora of the Washington Post. Irsay previously said he was looking forward to interviewing a host of candidates for the position, making that comment weeks after indicating hope Saturday would do enough to stay on full-time.
Jim Harbaugh is believed to be on the Colts' radar for 2023. The Colts' last HC search produced two hires, with Reich taking over after Josh McDaniels bailed, raising the stakes for this upcoming process. This will be a pressure-packed hire for Irsay and Ballard, with the Colts closing out a chaotic year.
Follow @PFRumors