Browns running back Kareem Hunt found himself in a spot of bother with police late last week, as he was pulled over for speeding but was found to have marijuana in his vehicle. TMZ has since posted a video of the traffic stop, which revealed a few more critical details. For instance, in addition to the marijuana, Hunt had an open bottle of vodka in the vehicle and admitted to the officer who pulled him over that he would have failed a drug test in that moment.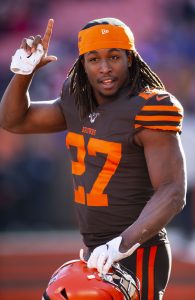 Not too long ago, Hunt looked like one of the league's brightest stars as a member of the Chiefs. But after a video showed the former rushing champion shoving and kicking a woman at a Cleveland hotel in 2018, Kansas City parted ways with him.
The Browns took a chance on him last February, knowing that he would likely be hit with a lengthy suspension. Hunt was banned for the first eight games of the 2019 campaign, but he played reasonably well when he returned. As a complementary back to starter Nick Chubb, Hunt averaged nearly 60 yards from scrimmage per game and posted a 4.2 YPC mark.
Cleveland can retain Hunt via a restricted free agent tender, which seems much more likely than a long-term pact at this point. Although the Browns now have a new power structure, it stands to reason that the club would want Hunt back. He will be just 25 when the regular season opens, and with unrestricted free agency looming in 2021, he could be especially motivated to put his ugly off-field incidents further behind him and prove to the rest of the league that he can still be a top-flight starter.
But the traffic stop could give the Browns — and all 31 other clubs — some pause. Though he has not (yet) been cited for anything other than speeding, the fact that he used drugs not long before getting behind the wheel is troubling, and he was very emotional throughout his interaction with the officer.
"Man, I've been through a lot," Hunt said. "I lost everything already, sir. I'm just trying to be in my hometown and chill."
He certainly lost a slam dunk chance at a massive contract, and he has also missed a chance to win a title with the Chiefs this year, which clearly still upsets him.
"It hurts my soul," he stated. "You don't even understand. I've been fighting a lot of s*** lately. It still hurts me to this day."
In order to give himself the best shot at regaining his former status, Hunt needs to stay squeaky clean, and this incident isn't helping matters. It will be interesting to see how new GM Andrew Berry handles the Hunt situation in the coming weeks.
Photo courtesy of USA Today Sports Images.
Follow @PFRumors