The NFL's collective bargaining agreement expires in March 2021, which means that a labor stoppage could be on the horizon. The owners and players have been talking for months about a new deal and the latest update brings reason for optimism.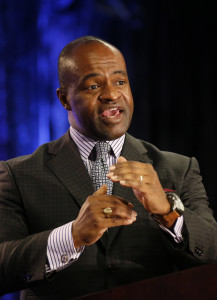 In an NFLPA memo to players, union leader DeMaurice Smith reported that the two sides have struck tentative agreement on the players' guaranteed portion of revenues, increases in minimum salaries, changes to the offseason, and a reduction in training-camp contact. The owners have also tipped that they'll agree to "significant modifications" in the league's drug and disciplinary policies, according to Smith (Twitter link via Mark Maske of The Washington Post).
Of course, in order to get all of that, the union will have to make concessions. Smith confirmed that the talks have been proceeding based on a potential 17-game season with expanded playoffs. To help offset the extra game(s), the two sides are mulling a reduced preseason.
Everything sounds like it's trending in the right direction for a new CBA, but nothing is final until everything is signed, and we're likely a long way from that. There's also this to consider – Russell Okung, who is open to a stoppage and strongly opposed to a 17-game season, is expected to challenge Eric Winston for the union president position.
Photo courtesy of USA Today Sports Images.
Follow @PFRumors