The NFL hasn't seen a work stoppage since a three-plus-month offseason lockout in 2011, but it appears more labor strife is on the horizon. The collective bargaining agreement the owners and players negotiated six years ago expires at the conclusion of the 2020 season, after which a strike or a lockout is "almost a virtual certainty," NFLPA chief DeMaurice Smith told Albert Breer of The MMQB this week (video link).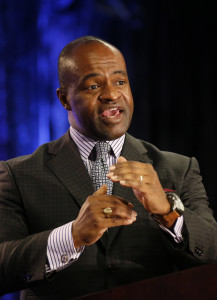 While Smith is unsure if another stoppage will lead to missed games (it didn't last time), there are obvious cracks in the relationship between the owners and players that could force a drawn-out battle. For example, Smith stated there won't be another uncapped year before the current CBA expires because the owners "lied and cheated" about the previous one in 2010. He added that there was collusion on the owners' side when they unanimously voted in 2008 to opt out of the prior CBA in 2011.
"All of the mutual benefits that were supposed to happen as a result of the opt-out didn't happen last time," said Smith. "Owners colluded with each other. We found out they colluded with each other. All of the bad things that went to the players happened and all of the bad things that went to the owners didn't happen.We have a new deal where if it doesn't get fixed, you head into a certain small 'A' armageddon." 
When serious discussions do commence on a new CBA, it's fair to speculate that more financial security for the players and a less austere disciplinary system could factor into talks. The players have made it known on multiple occasions, particularly in light of recent contracts given out to NBAers, that they aren't content with the non-guaranteed deals in the NFL. There has also been unhappiness toward the way the league has doled out punishment to players during commissioner Roger Goodell's time at the helm. In fact, the NFLPA is currently in a public fight with the league over Cowboys superstar running back Ezekiel Elliott's six-game ban stemming from domestic violence allegations.
Photo courtesy of USA Today Sports Images.