One of this era's defining defenders, Luke Kuechly delivered a stunner Tuesday night. The perennial All-Pro announced his retirement at age 28.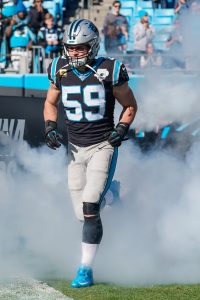 Kuechly made his seventh straight Pro Bowl this season and is a five-time first-team All-Pro. The 28-year-old linebacker has dealt with concussions for years. He suffered three from 2015-17. While Kuechly is not the first to retire early due to health issues in recent years, he is one of the highest-profile players to step away early in modern NFL history.
While Kuechly did not miss any time from 2018-19, the former first-round pick indicated he had considered retirement for a while. The Cincinnati native said he wants to continue playing but knows coming back for a ninth season would not have been the best course of action.
"In my heart I know it's the right thing to do," Kuechly said (video link). "… There's only one way to play this game since I was a little kid – play fast, play physical and play strong. And at this point I don't know if I am able to do that anymore."
One of the best players in the Panthers' 25-year history, Kuechly has anchored Carolina defenses since being selected in the 2012 first round. He started all 118 games in which he played and led the Panthers to four playoff berths from 2013-17. Kuechly broke up J.J. Watt's string of defensive player of the year honors, winning the award in 2013. Two years later, he spearheaded Carolina's 15-1 season and run to Super Bowl 50. Kuechly tore one of his shoulder labrums late that season but played through the injury and started in each of Carolina's three playoff games, making 10 tackles and sacking Peyton Manning in the Super Bowl. But concussion issues obviously overshadow any other malady the Boston College product overcame.
The Panthers middle linebacker missed three games because of his 2015 concussion and one after suffering a head injury in 2017. However, the concussion he suffered on national television in November 2016 ended his season and indicated this may well be a long-term concern for the stalwart defender. While Kuechly racked up two All-Pro seasons after that hiatus, he will prioritize his health instead of playing into his 30s.
No linebacker whose career began in the 21st century has more first-team All-Pro honors than Kuechly's five. Patrick Willis, who also opted to leave the game after eight seasons, accumulated five such distinctions. Bobby Wagner, who joined Kuechly in the 2012 draft, does as well. No other Panthers player earned more than two first-team All-Pro honors. Kuechly began his career with three 150-tackle seasons and will finish with 1,092 — the most in the NFL since 2012. He added 18 interceptions — the most among linebackers since 2012. He will almost certainly end up in the Hall of Fame.
Two years remained on Kuechly's five-year, $61.8MM contract. Agreed to in 2015, Kuechly's deal represented the standard for off-ball linebackers for a time. C.J. Mosley and Wagner transformed that market in 2019, and Kuechly could have been expected to top his peers' $17MM-plus-AAV deals if he chose to. Instead, he will walk away from a $10.3MM salary in 2020.
The Panthers will have seen their longtime linebacker tandem of Kuechly and Thomas Davis depart in consecutive years. The team recently gave Shaq Thompson a lucrative extension; the 2015 first-round pick will slide into a centerpiece role for Matt Rhule's team.
Photo courtesy of USA Today Sports Images.
Follow @PFRumors