To say the past year has been a tumultuous one for Antonio Brown would be a massive understatement. The embattled receiver has been on a very bumpy path, and he recently gave his first interview to local Pittsburgh media since leaving the Steelers to clarify some things. Brown went on 93.7 with hosts Chris Mack and Colin Dunlap, and Adam Bittner of the Pittsburgh Post-Gazette transcribed his comments.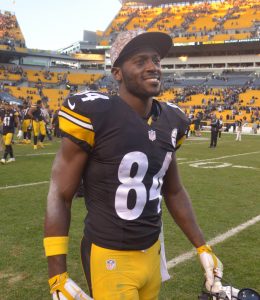 Throughout the interview Brown struck a much more conciliatory and restrained tone than he often has on social media. He took the time to apologize to the Steelers and even to his former quarterback Ben Roethlisberger. Yes, you read that right. "I apologize to those guys for the distractions. The unwanted attention I probably caused those guys. To the fans and organization," Brown said. "So I'm forever grateful and indebted to the organization. Mr. Rooney. Mike Tomlin. Kevin Colbert. Ben Roethlisberger. You know I started my career with those guys. A lot of beautiful moments. A lot of amazing things. So it's not all bad," he continued.
Brown was a surprising inactive in Week 17 of 2018, and things rapidly deteriorated from there. There were a lot of reports about what happened for Brown to get benched, including one that he threw a football at Roethlisberger in practice that week. Brown didn't explain exactly what went down, but he did seem to take issue with the reporting. "For me, the last game, I had some adversity, but it was just time to move on. To do something more positive. I just was emotionally drained and just frustrated about how everything went down. A lot of stuff go down and people don't know what really happens. People just write about it and make assumptions. But people don't know the truth of what the emotions and what players really go through."
Brown also seemed to reveal that the reason he wanted out of Pittsburgh was because he didn't think they were serious enough about winning a championship. "I just think we had a lot of things that were important to individuals, but it wasn't really important to do the big thing, which was win the Super Bowl. So for me, I'm getting to the point where I'm older in my career, and the things that were important to me were winning," he explained. "At the point I was at, I was just felt like 'Man, guys on the team wasn't really ready push to go get what was important, so for me it was all about getting that next carry and being able to be a winner."
Speaking on his recent arrest and court-ordered psychiatric evaluation, Brown downplayed it and said he doesn't have any mental health issues. "I'm pretty good man. Those guys put me in a crazy check, and I don't even know why they did that. But I just think mental health is really important." Brown also suggested that not playing football this season was responsible for most of his erratic behavior. "I don't really have anger. I just think I'm really bored. You know, football keeps a lot of my focus. And not being able to have that thing that took my energy, that put my focus toward allowed me to be bored and react to things I wouldn't normally react to."
The full comments are worth a read, as Brown also talked about his relationship with former teammates like JuJu Smith-Schuster. Brown clearly wants to keep playing football, but obviously he's got a lot to sort out first.
Photo courtesy of USA Today Sports Images.
Follow @PFRumors