Teams that have spoke with Tom Brady in recent days believe that the new Buccaneers quarterback wants to reunite with Antonio Brown, according to NFL.com's Mike Garafolo (on Twitter). It's not immediately clear whether the Bucs are willing to sign Brown, whose status with the league is still up in the air.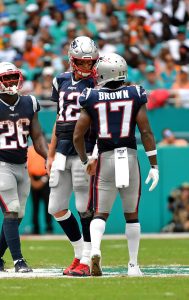 We also heard chatter that Brady wanted to play with Brown in the lead-up to free agency, though those were sourced from anonymous people "close" to the wide receiver. Now, we're getting word of Brady's desire to play with Brown directly from the teams that were courting him.
From a football perspective, it would be a huge win for the Buccaneers. With Brown, Mike Evans, and Chris Godwin at wide receiver, they'd be impossible to guard for opposing defenses.
Still, the NFL says Brown's status remains under review. Even if he's cleared to play, the Bucs might have reservations about bringing him into the locker room. Remember, even before all of the ugly accusations and disturbing social media videos, Brown was perceived to be unstable for his behavior in Pittsburgh and the drama that nixed his Oakland tenure before it even began.
Brown has caught 841 passes for 11,253 yards over the course of his ten-year career, which includes seven Pro Bowl appearances. Brady, meanwhile, has thrown for 74,751 yards and 541 touchdowns en route to 14 Pro Bowl selections.
Photo courtesy of USA Today Sports Images.
Follow @PFRumors