Is Tom Brady looking to reunite with Antonio Brown? Two people close to the troubled wide receiver tell Dan Graziano and Jeremy Fowler of ESPN.com that the quarterback has told Brown that he wants to play with him again.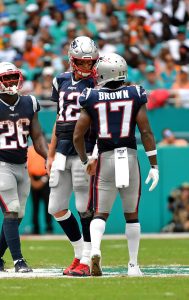 It's a surprising bit of news that perhaps should be taken with a grain of salt. First, we have to consider the source – those close to Brown would have incentive to push the narrative that the league's most popular athlete is eager to team up with him. It's also possible that Brady, who was friendly with Brown during his short stay in New England, is simply looking to keep up Brown's spirits.
If Brady returns to the Patriots, it's hard to envision such a reunion taking place. And, if Brady signs elsewhere, teams will have reservations about getting involved with Brown. Even before all of the ugly accusations and disturbing social media videos, Brown was perceived to be unstable for his behavior in Pittsburgh and the drama that nixed his Oakland tenure before it even began.
One of Brown's attorneys told the ESPN duo that Brady has encouraged Brown to stay "mentally and physically strong" so that they can pair up once again. If that does somehow come to fruition, it's not a given that Brown will be allowed to take the field in September.
Meanwhile, it's anyone's guess as to where Brady will wind up. The Colts and Giants are reportedly not among the teams chasing him, but the Chargers, Titans, and Raiders may be among the clubs looking to pry him from the Patriots. Despite his accomplishments, some execs have told Graziano and Fowler that they're expecting him to fetch no more than $30MM/year on a two- or three-year deal.
Photo courtesy of USA Today Sports Images.
Follow @PFRumors