The Jaguars haven't found any viable deals for Leonard Fournette, Adam Schefter of ESPN.com tweets. Schefter hears they've actually been shopping the running back for over a month, which indicates that he's not in their plans for this year. Ultimately, they may have to settle for less than they anticipated if they really want to move on from him.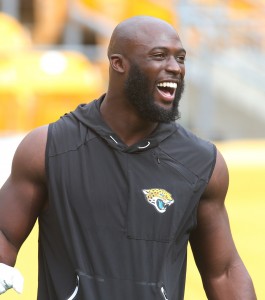 [RELATED: Jaguars Talking Fournette Trade]
Fournette clashed with Tom Coughlin and struggled to stay healthy in his early seasons, but he turned in a solid 2019. The former No. 4 overall pick ran for a career-high 1,152 rushing yards with an average of 4.3 yards per carry, a big step up from his 3.3 average in an injury-shortened 2018. Still, the Jaguars aren't sold on him.
The LSU product is set to earn $4MM+ in 2020 with a fifth-year option for 2021, priced at more than $10MM. The Jaguars have until early May to exercise that option and, clearly, they don't think Fournette is worth the gamble. Meanwhile, Fournette has been less than thrilled with the Jaguars' overhaul this offseason.
"Calais Campbell, they got rid of my dawg,″ Fournette said on social media after the veteran defensive end was shipped to the Ravens (via John Reid of the Florida Times-Union) . "I'm hurt, first those are my dawgs. 'Don King' Jalen Ramsey. And my dawg, Yan [Yannick Ngakoue]. Come on now…They're just killing me right now. I'm just so hurt, it feels like my girl has broken up with me. She left to go with somebody else.″
Teams like the Buccaneers, Dolphins, Lions, Colts, and Bills would make varying degrees of sense for Fournette, but it's not clear if they've been in contact with the Jags. Whichever clubs have expressed interest in Fournette, apparently, aren't offering a whole lot.
Photo courtesy of USA Today Sports Images.
Follow @PFRumors