Shortly after surrendering to police, Giants CB DeAndre Baker and Seahawks CB Quinton Dunbar have posted bond and have been released from jail, as Jeremy Fowler of ESPN.com reports. Baker was granted a $200K bond ($25K for each of the eight charges he is facing), and Dunbar was granted a $100K bond ($25K for each of his four charges).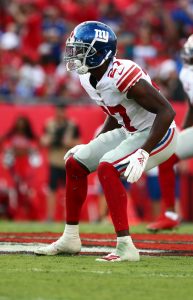 Both players have been ordered to remain in Florida at this time, though Broward County Judge Michael Davis also said that the matter would be given further consideration when Baker and Dunbar need to leave the state for work (i.e., when the league is no longer operating virtually). The Giants have told Baker to stay away from team meetings — he had been participating in most of the club's virtual offseason program — so that he can focus on his legal issues.
The fact that the players received fairly "light" bonds relative to their income suggests to some, like New York-based criminal defense attorney David Touger, that the prosecution's case is not particularly strong (via Paul Schwartz of the New York Post). "The prosecution does not seem to have gone at Baker or his co-defendant very hard," Touger said. "If they had a strong case one could assume that they would have really fought hard for remand and no bail."
But according to Fowler, the state did indeed request remand, the judge just did not grant it (perhaps due to Baker's and Dunbar's lack of criminal history). Dunbar's attorney presented five affidavits — four from alleged victims and one from a witness — recanting statements they had previously made to police. The state found it suspicious that those recantations came just 36 hours after the statements were made and pertained specifically to Dunbar, though Baker's attorney proffered that he has some affidavits of his own and is not playing all his cards at the moment. He did share one affidavit from a mutual friend of Dunbar and Baker who said that Baker did not take any property from him and did not point a gun at anyone.
Obviously, this matter is still in its early stages. Even the best-case scenario for Baker and Dunbar probably includes a suspension of some kind, especially since the disturbing allegations stem from an illegal dice gambling game.
Photo courtesy of USA Today Sports Images.
Follow @PFRumors