After being released on bond, Deandre Baker and Quinton Dunbar have entered not guilty pleas, as ESPN.com's Cameron Wolfe writes. Baker is facing eight charges in connection with the alleged armed robbery in Florida; Dunbar is facing four counts.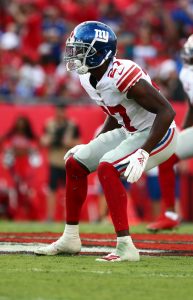 [RELATED: DeAndre Baker, Quinton Dunbar Released On Bond]
Meanwhile, the attorneys for both cornerbacks are going on the offensive. Michael Grieco, the lawyer representing Dunbar, says it's "completely untrue" that the duo gambled away $70K before the night in question (Twitter link via ESPN.com's Brady Henderson). Furthermore, Grieco claims that they're not especially close friends and they weren't together at all in the weeks leading up to the fateful Wednesday.
The police department in Miramar, Florida has a different account of things. Authorities say Baker held partygoers at gunpoint while Dunbar robbed them. Some witnesses claimed that Dunbar also had a gun. With the aid of a third man wearing a mask, Miramar PD says they ran off with thousands of dollars, plus a Rolex, Hublot, and a Audemars Piguet.
Now, the duo will wait to find out whether the charges will actually be filed. Grieco expects word within a month and, ultimately, believes that his client will be cleared. Either way, the NFL is expected to conduct its own investigation into the matter.
Photo courtesy of USA Today Sports Images.
Follow @PFRumors