The Steelers did not draft a quarterback and have not signed a veteran this offseason, and GM Kevin Colbert elaborated on why recently.
Not only did the Steelers' 21st-year GM confirm the team did not make an offer to Jameis Winston, he said the Steelers intend to go forward with the backups they used last season. Pittsburgh has former third-round pick Mason Rudolph and ex-UDFA Devlin Hodges under contract. Former first-round pick Paxton Lynch is as well, though he did not play last season.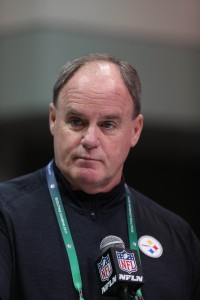 "We're comfortable with Mason Rudolph as a backup and Devlin Hodges in the mix. Between the two of them, they were 8-6 last year," Colbert said during an appearance on the #PFTPM podcast (via Mike Florio of Pro Football Talk). "You get into a backup quarterback situation, 8-6 is not 14-0 but there's some comfort in knowing that they can get you through the hopefully nonexistent spell that may occur if your quarterback gets injured."
The Steelers make sense for a veteran, with Ben Roethlisberger coming off elbow surgery in advance of his age-38 season. His two backups oversaw a last-place offensive DVOA season. The Steelers ranked sixth in offensive DVOA in 2018, when Big Ben started 16 games, but plummeted to last in 2019 after his Week 2 injury. The Steelers' improved defense (third in DVOA) played a significant part in the team's eight wins. Rudolph and Hodges tied for last place in Next Gen Stats' average completed air yards metric, with each at 4.5 per completion.
Cam Newton is now believed to be open to being a backup in the right situation. Though, Newton has dealt with more injury trouble than Roethlisberger has in recent years. Joe Flacco is now shelved until perhaps September. Other veterans available include Blake Bortles, Geno Smith, Trevor Siemian, Mike Glennon and Drew Stanton.
Colbert attributed part of his team's lack of interest in veterans to its salary cap situation. The Steelers hold $5.7MM in cap space and have yet to sign any of their draft picks. Although Pittsburgh frequently restructures contracts to create cap room, the team is not planning to change up its Roethlisberger-Rudolph-Hodges QB room for the time being.
"Lot of times when we get into salary cap management and you have significant dollars in your starter, it's hard to put a lot of dollars in your backup," Colbert said. "We're very comfortable knowing if need be Mason and Devlin and/or Devlin and Mason and even Paxton Lynch, who's got No. 1 talent. We'll see what we got, but we're comfortable with that right now."
Photo courtesy of USA Today Sports Images.
Follow @PFRumors