Historically, the Titans have a point to lock up key players before they can leave via free agency. Taylor Lewan and Kevin Byard both landed extensions well in advance, but the ongoing uncertainty may leave players like tight end Jonnu Smith in limbo, GM Jon Robinson says.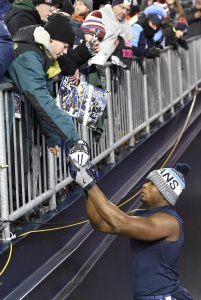 "I'm a big analogy guy," Robinson told Paul Kuharsky. "It's no different than if I was if I was working for Pepsi or Coke, and I knew that we weren't going to have as many sales. …You wouldn't go out and buy a new house.
"I don't know what that's going to look like. It's something that we will certainly talk about. You know, we've talked to the players and the reps. There's a lot of uncertainty right now with everything, and I would say certainly with the salary cap too, because we've got to be mindful. What you don't want to do is do something and then you've got to undo it or try to unpack it a year, two years from now, given the uncertainty of the salary cap."
Smith isn't the only notable player entering his walk year. Linebacker Jayon Brown and nose tackle DaQuan Jones also have one season to go on their respective deals, but they could be left to wait as the Titans try to get a grip on their future finances. The league is facing a potential $4 billion loss in revenue, which would shrink the cap by about 35%. The NFL has pitched the idea of putting a portion of player salaries into escrow to avoid a dramatic drop, but the union is pushing back.
Smith was mostly been as a blocker in his early years, but he flashed his hands last year. The 24-year-old (25 in August) caught 35 passes for 439 yards and three scores, giving the Titans a glimpse of what could come. The former third-round pick is slated to count for just $933K this year and he's in line for a pay bump in 2021.
Photo courtesy of USA Today Sports Images.
Follow @PFRumors