The Buccaneers have had recent extension talks with longtime linebacker Lavonte David, per Ian Rapoport of NFL.com (via Twitter). David is set to enter the final year of his current contract, which will pay him a salary of $10.75MM.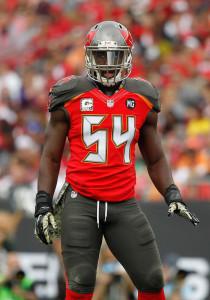 Tampa selected David, 30, in the second round of the 2012 draft. He earned a First Team All-Pro bid in his second professional season, and he picked up a Pro Bowl nod in 2015. Though he hasn't earned any All-Pro or Pro Bowl recognition since, he has consistently performed as one of the best linebackers in the league. Advanced metrics and the eye test suggest that he is generally strong against both the pass and the run, and he has averaged 126 tackles per season throughout his career.
He has also been durable. He did miss a couple of games in the 2017 and 2018 seasons, but he bounced back to play a full 16-game slate last year. He has started all 121 of the games in which he has appeared.
So it makes sense that the Bucs would want to extend their relationship with David. The fact that he is typically not called upon to rush the passer means that he will not be paid like one of the top LBs in the league, but a multi-year pact with an average annual value in the $13-14MM range wouldn't be out of the question.
David is still looking for his first playoff appearance, and he might just get it in 2020. In case you hadn't heard, the Bucs made several high-profile acquisitions on the offensive side of the ball this offseason and managed to keep a strong defense intact. Though question marks remain in the secondary, the front seven is stout, and David and 2019 first-rounder Devin White look like they will continue serving as one of the game's better LB tandems for at least the next couple of years.
Follow @PFRumors