Upon finding out the Rams had included him in their trade package for Matthew Stafford, Jared Goff said he was "extremely disappointed and upset," according to Sam Farmer and Gary Klein of the Los Angeles Times. The five-year veteran has come to better terms with the trade in the days since.
The Rams went from parting with considerable draft capital to acquire Goff over Carson Wentz at No. 1 overall in 2016 to giving him a four-year, $134MM extension in 2019 to being noncommittal about his 2021 status. Goff is now bound for Detroit.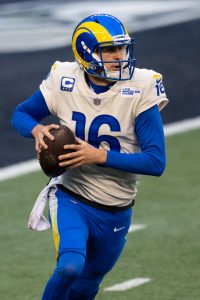 "Ultimately, they wanted to go in a different direction," Goff said, via Farmer. "As the quarterback, as the guy that's at arguably the most important position on the field, if you're in a place that you're not wanted and they want to move on from you, the feeling's mutual.
"You don't want to be in the wrong place. It became increasingly clear that was the case. [The trade] is something that I'm hopeful is going to be so good for my career."
The Lions were able to pry two first-round picks from the Rams because of the lofty guarantees in Goff's deal. The Super Bowl LIII starter, at least publicly, has not acknowledged a point where his status in Los Angeles went south. Goff finished 22nd in Total QBR in 2019 and 23rd in 2020, dropping from the Pro Bowl perch on which he resided after his first two seasons with Sean McVay.
"That's the tough part right now is trying to figure that out, when did that happen?" Goff said. "Those are all conversations that I may or may not have, and try to figure it out. That's the conversation to have."
Discussions with Dan Campbell and other members of the Lions' new regime have led Goff to the reported conclusion he will be the team's 2021 starter. The Lions will have a non-Stafford primary starting quarterback for the first time since their 0-16 2008 season.
While Detroit will likely be linked to passers with its No. 7 overall pick, the team has Goff under contract through 2024. No easy out from this deal exists until after the 2022 season. A year after the Rams took on more than $33MM in combined dead money from Todd Gurley and Brandin Cooks' departures, they will eat $22.2MM — a single-contract record — in 2021 because of Goff's exit.
"[Discussions with Lions brass are] what made me go, 'oh my God, this is how it's supposed to feel. This makes me feel great,' how excited they were, how fired up they were," Goff said. "… As time has gone on over the last few days, and even the end of that night, it becomes a positive and you start to feel really good about yourself again. You start to feel, I don't want to say relief is the word, but you start to feel happy, grateful, ready for a new opportunity."
Photo courtesy of USA Today Sports Images.
Follow @PFRumors