Bill Belichick has a well-known affinity for trading back in the draft, but it sounds like New England could buck the trend and trade up. Jeff Howe of The Athletic writes that the Patriots have spoken with the Falcons about a trade for the fourth-overall pick.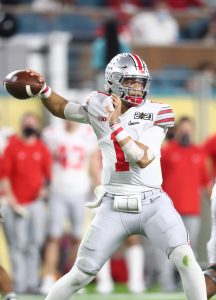 If the Patriots are planning on spending assets to move up from No. 15, they presumably have a target in mind. Howe believes that these trade discussions are a strong sign that the Patriots have "found conviction" in at least one prospect, and he opines that the player is Ohio State quarterback Justin Fields. Tom Pelissero of NFL Network reported a similar sentiment earlier this week (Twitter link), noting that the Patriots were sniffing around at a trade with the hope of landing Fields. Pelissero's report indicated that New England had spoken with the Lions at No. 7 and the Panthers at No. 8.
If Belichick and the Patriots do decide to cash in on a quarterback prospect, it'd be a surprising development. The Patriots haven't used a first-round pick on a quarterback during Belichick's tenure with the team (although that was easy to do with Tom Brady under center), but they've also generally been wary of trading up during the first day of the draft. Belichick has only traded up in the first round on three ocassions during his time in New England, and only one of those trades saw him acquire a top-15 pick (Ty Warren at No. 13 in 2003).
For a team that likes to retain their draft capital, the Patriots would have to give up a bounty to acquire the No. 4 pick. The 49ers had to give up No. 12, two future first-rounders, and a third-round pick to get up to No. 3; the Falcons would presumably ask for a similar haul if New England wanted to jump from No. 15 to No. 4. It wouldn't be as pricey to move from No. 15 to either No. 7 or No. 8, with Pelissero estimating that it'd cost at least a second-rounder.
Of course, it's still uncertain if Fields will even be around at No. 4, much less No. 7 or No. 8. The 49ers could still very well select the Ohio State product with the third-overall pick.
Photo courtesy of USA Today Sports Images.
Follow @PFRumors